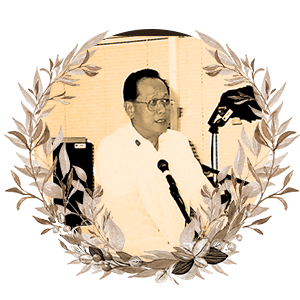 Historian and Academician
December 30, 1933 – January 6, 2022
Samuel Kong Tan was a Filipino historian, academician, and author.
Born in Siasi, Sulu, he was of mixed Tausug-Sama and Chinese Filipino heritage. An outstanding student, he graduated as valedictorian in both elementary (Jolo Tong Jin School in 1949) and high school (Zamboanga City High School in 1953).
He earned an AB History degree, summa cum laude, from the Zamboanga Arturo Eustaquio Colleges (now known as the Universidad de Zamboanga) in 1963. In 1967, he received his MA History degree from the University of the Philippines (UP)-Diliman, and obtained his PhD in social science in 1973 from Syracuse University in New York.
Dr. Tan taught at the UP Department of History from 1963 to 1994, and served as chair from 1977 to 1982. From 1994 to 2002, he was director and convenor of the Mindanao Studies Program of the UP Center for Integrative and Development Studies.
He was also a lecturer at the National Defense College of the Philippines, the Development Academy of the Philippines, Sophia University, Silsilah Dialogue Institute, De La Salle University, and Mindanao State University.
He was a research fellow, coordinator, and consultant of the Regional Histories Project of the National Library from 1981 to 1983, and consultant for history and culture of the Southern Philippines Development Authority in 1999.
Tan received a Ford-Rockefeller grant in 1993 and a Chiang Ching Kuo Foundation research grant in 1995.
He wrote around 20 books, mostly centered on Filipino Muslims, the Bangsamoro struggle, and related topics. Among his works are A History of the Philippines (1987/1997), Decolonization and Filipino Muslim Identity (1989), The Critical Decade, 1921-1930 (1993), and The Filipino-American War, 1899-1913 (2002).
Dr. Tan also served as chairman and executive director of the National Historical Institute (now the National Historical Commission of the Philippines or NHCP) and, by virtue of his office, as commissioner of the National Commission for Culture and the Arts (NCCA) from 1997 to 1998, and commissioner of the National Centennial Commission from 1997 to 1999.
In 1999, he was recognized for his valuable contribution and support as a member of the NCCA Board of Commissioners. He received a Gawad Dangal ng Haraya from the NCCA for his outstanding contributions to cultural and historical research in 2007. The Philippine National Historical Society also granted him a Lifetime Achievement Award in History in 2019.
Dr. Samuel Kong Tan died of complications due to Covid-19 at the age of 88. But his legacies remain.
According to Amina Rasul, Philippine Council for Islam and Democracy president, Tan was "the premiere historian of the Sulu archipelago, devoting his life not just to the study of history of the Philippines, but the local history of his home province."
Bangsamoro Member of Parliament Amir Mawallil was effusive in his praise: "If you're studying history, or if you're reading the history of the Sulu archipelago, it is unlikely that you won't encounter his name, his books, and his narratives. The Tausug lost another precious treasure. Rest in eternity, Dr. Samuel Tan, historian and keeper of memory."