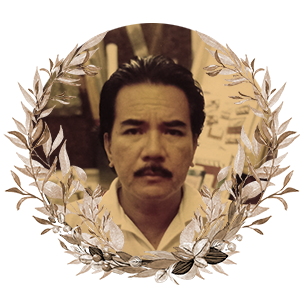 CCP Thirteen Artists Awardee (1992), Painter, Sculptor, and Art Restorer
February 6, 1943 – March 12, 2020
Aro Soriano, born Lazaro Salamat Soriano, was a painter, sculptor, and art restorer. He was known for works that drew inspiration from folk traditions. Filipino songs, proverbs, folklore, street games, and even age-old rituals were fair game for his art, which wedded a contemporary, cosmopolitan sensibility to a distinctly Pinoy perspective.
He started out as a child actor, but didn't stay in the film industry for long. He later studied at the University of Santo Tomas.
Soriano honed his skills as an artist during his 11-year sojourn in Europe (1970 to 1981) when he was in his 20s. He took on odd jobs as he studied at the Instituto de Cultura Hispanica in Spain and immersed himself in the great contemporary and classical art collections of the museums of Paris.
When he returned to the Philippines, he first did constructivist paintings and then proceeded to create works that featured Filipino themes.
From 1985 to 1986, Soriano produced a series of oil paintings depicting interpretations of folk songs. In another series, he created visual interpretations of riddles and proverbs. He also ventured into terracotta sculpture, which gave him more scope to reflect his Philippine aesthetic.
Soriano's most famous work is the 1987 painting Jak en Poy (Sticks and Stones). The colorful modern masterpiece references the Filipino version of the "rock-paper-scissors" game. The painting is a social realist take on the state of Philippine politics after the 1986 EDSA People Power Revolution.
As former National Commission for Culture and the Arts chair Prof. Felipe M. De Leon, Jr. noted, "[Soriano's] works, though very contemporary in sensibility, characteristically display great skill in integrating visual elements, folklore, song texts, ritual, and performance."
Soriano was among the honorees of the CCP Thirteen Artists Awards in 1992. The following year, he participated at the First Asia Pacific Triennial of Contemporary Art at the Queensland Art Gallery in Australia.
One of the standouts among Soriano's projects as an art restorer is the work he did on National Artist Victorio Edades' 1963 oil portrait of Carmen Kierulf. Edades was Soriano's former teacher. Soriano himself taught at the Philippine Women's University.
In 2011, Soriano's works were included in the exhibit Edades: From Freedom to Fruition at the Bulwagang Juan Luna (also known as the Main Gallery) of the CCP.
Beyond his paintings and sculptures, Soriano was recognized as a tireless advocate of Filipino folk arts, reinterpreting age-old artistic traditions, embracing and celebrating Filipino culture through his works.