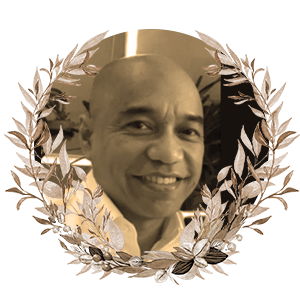 Poet, essayist, translator, and teacher. Beloved mentor for the humanities and for writing and meditation workshops
July 15, 1970 – April 19, 2020
RANDY BUSTAMANTE (1971-2020), full name Randolf M. Bustamante, was a writer, editor, teacher, translator, and practitioner of mindful meditation. Bustamante published poetry in Filipino and in English in various literary journals and anthologies from university and independent presses. He also edited several literary and academic manuscripts.
Bustamante's Filipino translation of Lourdes Montinola's award-winning non-fiction book Breaking the Silence (Pagbasag sa Katahimikan: Isang Talang-Gunita ng Digma) was published in 2017. In 2018, he authored the children's poetry book Lost and Found: A Song of Marawi (Miada ago Miyatoon, Idayda a Marawi), which was translated into Maranao by Zaman Macapaar-Guinar and illustrated by Tristan V. Yuvienco.
Bustamante taught writing and the humanities courses at his alma mater and the University of the Philippines. He later went to the US for a doctoral fellowship in Theology and Education. While there, he taught writing courses at Boston College. He also taught an introductory course on college writing to the first graduates of the Oprah Winfrey Leadership Academy for Girls. Then, after living and working in Boston for 12 years, Bustamante returned to the Philippines in 2013.
Bustamante, who was born in 1971, graduated with a Philosophy degree from the Ateneo de Manila University in 1991. He got an MA in Literature from the same university in 1997. He went on to get an MA in Pastoral Ministry at the Loyola School of Theology in 2000.
Bustamante's students—from the schools where he taught and those who participated in his writing and meditation workshops—remember him as an inspiring mentor who encouraged them to go on a journey of self-discovery.