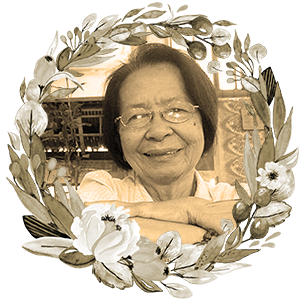 Kampeon ng Wika, Poet, Writer, Pangasinan language advocate, Catechist
November 6, 1942 – September 4, 2021
On November 6, 1942, Leonarda Ceralde Carrera was born in Mangaldan, Pangasinan to Benita N. Ceralde and Juan P. Carrera, Sr. Her father played a great role in her method of story-telling. Having served as barangay captain in Bonuan Binloc, Dagupan City, he was also known as an orator and debater.
With Leonarda's talent in writing, she initially wanted to take up journalism in college, but took up Bachelor of Science in Business Administration at Luzon Colleges (now University of Luzon) in 1962, where she graduated magna cum laude. She later became a certified public accountant.
Despite her chosen course, Leonarda's love for writing remained. She continued writing for their school organ and the now-defunct weekly newspaper Pangasinan Courier. The late Maria Magsano, a literary icon in Pangasinan, liked her articles so she asked Carrera to come to her office. This started their great mentor-mentee relationship. According to Carrera, she applied all the learnings she acquired from Magsano. She wrote a poem for Magsano that was included in her book Agnatukor Iran Kaisipan.
Carrera also wrote an article written in the Pangasinan language for ANI 20, a book for local writers spearheaded by the Cultural Center of the Philippines. Her affiliation with the Ulupan na Pansiansay Salitan Pangasinan (Association for the Preservation of the Pangasinan Language, Inc.) was a testament to her advocacy of promoting the Pangasinan language through literature.
She was also an active church worker doing apostolate work in the parish of St. Gabriel in Dagupan City. She served as a volunteer catechist in the same parish, where she taught catechism in public schools, and was also a lector-commentator, Eucharistic lay minister, and a member of the Secular Order of Discalced Carmelites, Pangasinan Chapter.
According to another esteemed Pangasinan writer, Santiago Villafania, Leonarda Carrera was the grande dame of Pangasinan love stories and novelettes. She published her Matuan Panangaro in 1983, followed by Tongtong 1 & 2, a collection of short stories. She produced a total of thirteen books and four prayer books in the course of her 50-year career as a writer. Most of these books were written in Pangasinan, some with English translations, some published under the pen name 'Amor Cico.'
She also donated copies of her books to various libraries in the province, including the Pangasinan Provincial Library and the Dagupan City Library, for the younger generations to appreciate Pangasinan literature.
For Carrera's invaluable contributions to Pangasinan literature, she was given the Kampeon ng Wika award (Pangasinan category) by the Komisyon ng Wikang Filipino in 2017, and the Distinguished Poet and Writer Award by the Writers International Network Canada in 2015.
She was also a resident judge of the annual literary contest of the Provincial Government of Pangasinan, the Kurit Panglunggaring.
She passed on last September 4, 2021. Her last known book was entitled, Thank You, Lord.
Carrera's life and faith can be summed up in these words from her book Searching God: "No one can be shaken by those who are secure in God's hands. It is God who has supreme control of everything. Worry less and entrust it to Him as you do your role which God has appointed you to do. God is enough. Trust Him."