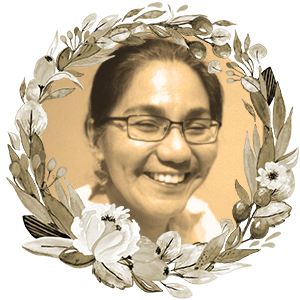 National Book Award Finalist (2012), author, theater artist, and activist
February 6, 1961 – July 14, 2020
Susan Ferrer Quimpo (February 4, 1961 – July 14, 2020) was a storyteller, author, theater artist, art therapist, and activist. She co-wrote a book entitled 'Subversive Lives: A Family Memoir of the Marcos Years' which was published and became a finalist at the National Book Award in 2012. It tells a story of how her family resisted Marcos and his cronies during the 1960s up to the 1990s at great personal cost.
During the Martial Law years, she was a student at the University of the Philippines. Aside from joining typical demonstrations, she would actively speak out against the government's abuses through her performances with UP's protest theater group, Peryante.
She went to the United States for her Masters in Southeast Asian Studies and lived in Washington D.C. and New York for several years. For a while, she worked with Columbia Law School but was unsatisfied with having an 'ordinary' job and decided to go back to her advocacy work. She would organize Filipino-American students to learn more about their language, history, heritage.
When she came back home to the Philippines, she would continue her mission by creating the 'Tagalog on Site' program which welcomed Filipino-American youth to visit the Philippines and immerse more intimately in their culture and history through classroom sessions and guided tours. They would visit important places the Cordilleras where they had the chance to interact with Filipino-American children who never knew their American fathers.
All her life, Susan was committed to teaching the Filipino youth about the lessons learned from the dark days of the Marcos dictatorship. She fought hard against historical revisionism by organizing the Martial Law Chronicles Project (MLCP) which was designed to train high school teachers how to teach martial law history in a way that is both accurate and interesting.
Aside from her teaching, she would provide art therapy sessions for persons suffering from psychological trauma due to natural calamities, armed conflict, torture, and other forms of abuse. She helped them heal from and master their repressed feelings and memories through artistic expression.
Friends remember her as passionate, kind, and sincere in how she communicated to people, especially her students. She helped heal people from their pain by simply giving them time to express themselves without judgment. She showed great love and care for her family and friends even during her final days.
Her life was not just about survival; it was about lifting others up and giving them a chance to become better. Because of this, she lives on in everyone she touched.