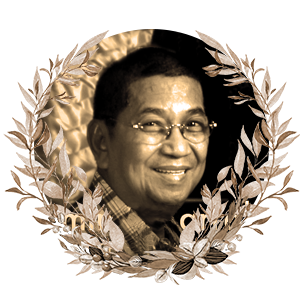 Gawad CCP para sa Sining Awardee (2015), Dean of Filipino Fashion, and Advocate of the Mindanao culture
July 1, 1932 – March 6, 2021
Fondly referred to as Mang Ben, Farrales was hailed as the Dean of Filipino Fashion for serving as mentor of young designers and for the establishment of the Ben Farrales Scholarship Foundation for the benefit of talented but disadvantaged youth.
Born on July 1, 1932, Ben was the youngest of ten children of Salvador Medina Farrales of Narciso, Zambales, and Paulina Samio of Sta. Cruz, Manila. According to the book by Abe Florendo entitled Ben Farrales, Fifty Years in My Fashion, Ben grew up working as a shoe shine boy in the streets of Manila, and while he was a high school student at the San Beda College, he sold boiled corn on the cob and matamis na bao spread on pan de sal. He dreamt of being a dress designer even before graduating in high school, so, in 1952, he "apprenticed" himself as an errand boy at Aurelia's, one of the more popular dress shops then. He was assigned to buy zippers and buttons among other tasks, mostly, non-artistic ones. But he was happy because it was the start of his colorful journey into fashion.
Unfortunately, his parents wanted him to take a pre-Med course, so off he went to Colegio de San Juan de Letran. After repeatedly flunking Math, he transferred to University of Santo Tomas and took up Fine Arts. He finally earned a bachelor of arts degree at San Beda.
It was his elder sister Aida, who married a Muslim politician, Salipada Pendatun (who later became senator and congressman), who encouraged young Ben to pursue a career in design. She asked her to live with them in Cotabato. In two years, he was exposed to the exuberance of Muslim culture and clothing.
In 1954, he wanted a shop of his own. Ben found a partner, the hairstylist Zorro David, who financed his first shop on Mabini Street in Malate. He became a favorite of Manila's top society figures and debutantes. One of them, Coching Sunico, invited him, and another promising designer Jose "Pitoy" Moreno, to participate in her fund-raising fashion show, "Romance," at The Manila Hotel. It was very successful, even if that decade celebrated the designs made by big shots Ramon Valera and Salvacion Lim.
Together with another newbie, Aureo Alonzo, the legendary triumvirate eventually became the pillars of Philippine fashion. Ben and other young designers formed the Philippine Couture Association in 1958. Ben was its first president. The association became part of Sunico's Karilagan International and participated in Seattle's World's Fair in 1961. Other international shows such as "Pacifica" followed in the sixties and seventies touring Southeast Asia and South America.
Knowing the power and spectacle that came from a runway show, Mang Ben was among the first to organize a fashion show at the Manila Hotel that started in 1959, which helped propel the works and brands of other designs, one of which was Patis Tesoro and her homegrown brand.
Mang Ben also designed costumes for the Bayanihan Dance Troupe and uniforms for Philippine Airlines.
A devotee of the Infant Jesus, he was the founding chairman of the Congregacion del Santisimo Nombre del Niño Jesus in 1978. The next year, Mang Ben and the Congregacion started the Flores de Mayo spectacle. The annual parade became a rite of passage for designers, with awards and distinctions at stake.
Mang Ben held a career-defining solo collection in 1984 called "Maranaw" which was an all-Muslim-inspired collection. It toured Canada and major American cities such as Los Angeles, including Washington D.C. where it was shown at the Kennedy Center. He was the first and only Filipino to show his fashion collection at the center. Mang Ben pondered on the Muslim look: "It's incredibly elegant. And it's very appropriate for us—not a very pretentious way of dressing up. But in whatever ways I adapt it, update it, modernize it, I always see to it that the Muslim look and feel is intact. I do not want to tamper with that." This was also his guiding philosophy as he designed Ruffa Gutierrez's Sarimanok-inspired dress that she wore at the Miss World 1993 beauty pageant.
The last time the general public saw a Farrales collection was at the Philippine Fashion Week Spring/Summer 2014 runway show. The three-part collection entitled Pais Tropicale, Moda Maynila, and Farrales Filipiñiana, each showcased Mang Ben's best of best. From contemporary loungewear, cocktail outfits, draped gowns, Filipiñiana dresses, to his riveting Muslim-inspired ternos, the grand runway show was truly a tell-all of Mang Ben's genius. It was directed by Ogee Atos and Joey Espino, Jr. who said, "Mang Ben was one of the major reasons why Philippine Fashion Week lasted 25 years. He told me to be patient and to look beyond. I poured my heart to him, and he always made me look for the sun behind the clouds. He asked me to never give up!"
His shows also helped Filipina models get a spotlight in the international runway, some of them were Marina Benipayo, Tweetie de Leon, Apples Aberin, Melanie Marquez, Tina Maristela, Cheng Bernardez Lucas, and Aurora Pijuan before she became Miss International in 1970.
Fashion director Jackie Aquino said, "Mang Ben deserves to be given an industry or national award. He had the biggest heart." This statement was about an edition of Fashion for a Cause, a Red Cross fundraiser for Super typhoon Ondoy survivors, that Mang Ben organized in 2009. He gathered about 200 designers, hair and makeup artists, directors and models to help the victims of Ondoy.
His San Beda alma mater gave him an outstanding alumni award in 1998 and during the school's centenary in 2001, he was deemed one of the 100 Best Bedans. And in 2015, Mang Ben was conferred the Gawad CCP para sa Sining award for interpreting in his fashion the vivid and rich culture of Mindanao and showing it to the world, and for inspiring young designers to take pride in their ethnicity. Likewise, he was cited for being "much more than a fashion designer, a true innovator and artist who brought Muslim Southern Mindanao culture into couture and made the Muslim-inspired gown his signature look. Weaving together the vivid colors of the malong and utilizing indigenous materials, Farrales was not only an exponent of Muslim craft and culture but a preservationist of Filipino heritage."
He passed away on March 6, 2021, at the age of 88. With over 60 years of hard work and good relations, and with over 200 shows presented locally and internationally, Mang Ben was truly a national treasure.