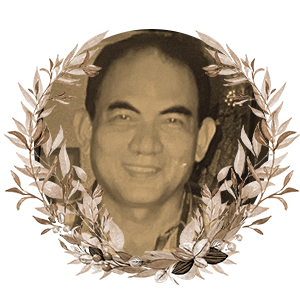 Marxist political economist, prolific author, and witty educator
May 6,1940 – September 7, 2020
EDBERTO MALVAR VILLEGAS (also known as Ed, Doc Ed, EdVil, and Mad Marx, 1940-2020) was a political prisoner, educator, novelist, and poet. As an academic scholar for almost 60 years, Villegas exemplified the Marxist maxim of doing and saying exactly what one is thinking. Praxis: the world must not only be interpreted; it must be changed. He tirelessly wrote books on Marxist political economy. Many were bestsellers. Most influenced future activists, politicians, and technocrats.
While detained for two years at Camp Bagong Diwa, he learned yoga and meditation to cope with the psychological torture of listening to the screams of his wife who was being tortured by the henchmen of Marcos in the next room. His indefatigable spirit remained intact and even soared by writing, while detained, the best-selling book Gen. Miguel Malvar and the Philippine Revolution, which was published upon his release from the military prison. He never tired of reminding everyone that he is the grandson of Malvar, the last Katipunero general to surrender to the American imperialists.
Villegas joined and formed the Student Cultural Association of the University of the Philippines (SCAUP) in 1961, together with other students including Jose Maria Sison, Communist Party of the Philippines (CCP) founding chair. In 1964, he cofounded the Kabataang Makabayan; and later became the Secretary General of the Alliance of Concerned Teachers (ACT). Along with 50 recipients, Villegas received ACT's Guro ng Bayan Award (2013).
Combining the rare gift of teaching and researching, some of the books Villegas penned were Notes on the Labor Code and the conditions of the industrial working class in the Philippines (The Philippines in the Third World papers), Oil Imperialism in the Philippines, Studies in Philippine Political Economy, Japanese Capitalism and the Asian Development Bank, Political Economy of Philippine Labor Laws, Japanese economic presence in Southeast Asia, Global Finance Capital and the Philippine Financial System, and A Guide to Karl Marx's Das Capital.
Aside from poems and short stories, Villegas produced the novels Sebyo and Barikada: Maikling Kuwento ng mga Pilipino. His writing prowess made him the head of the Amado V. Hernandez Resource Center.
Villegas explained lessons with clarity and lots of stories, humor, and gestures. "Political economy was never as hilarious — and won't be the same without [Ed]," said Jose Enrique Africa, IBON executive director.
Born on 6 May 1940 to Isabel Malvar and Jose Villegas, he studied English and Journalism, MA in Philosophy, and PhD in Public Administration all at the UP Diliman. He taught at the UP Manila, Polytechnic University of the Philippines, and De la Salle University Taft.
Like his grandfather, "Dr. Villegas himself will now be remembered as a hero of the Filipino people," wrote the CCP in its tribute, "His lifelong intellectual and practical dedication to anti-imperialism and socialism is worthy of emulation."