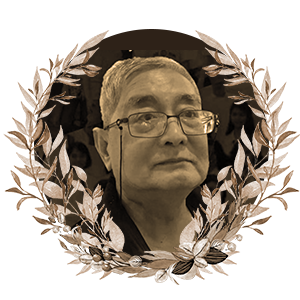 Respected and beloved desk editor, journalist, and educator
1948 – July 27, 2020
RAMON S. FRANCISCO (1948 – 2020), also known as Sir Kiko, Sir Mon, Sir RamFra, and even Mr. Bond, was a veteran journalist, editor, and educator. The latter nickname, after the fictional British spy, was part of the light-hearted, humorous banter that Sir Kiko would frequently have with his students at the University of Santo Tomas, all of whom were journalism majors.
He was an associate editor of the Manila Bulletin and editor of the Animal Scene Magazine.
He also worked as a desk editor in The Evening News and The Evening Post in Intramuros, and the old Manila Times in Sta. Cruz, Manila.
Some of his most memorable reportorial coverages included Pope Paul VI and Pope John Paul II's historical visits in the Philippines, and late President Marcos's travels from Manila to London, Kenya, and Southeastern Africa. He also covered the International Monetary Fund and World Bank Conference, where he interviewed hundreds of bankers, investors, and financiers. He was also the lone reporter aboard Air France's firstborn 747 jumbo jet's inaugural flight from Paris to New York.
Former Manila Bulletin editor Ivy Lisa Mendoza-Yulo, who used to work with him, said that "he was our go-to when faced with editorial and grammar doubts, our human AP Stylebook, everybody's friend."
He graduated from the University of Santo Tomas (UST) in 1967, summa cum laude, with a major in Journalism and a minor in Public Relations. He was editor-in-chief of The Flame, the student publication of the Faculty of Arts and Letters.
In the same year, he started teaching at UST and later became an assistant professor, teaching journalism, editing, and copy reading, among other courses. He also became UST Journalism Program Coordinator.
To his students, like Nate C. Barretto, who later became his colleague in Manila Bulletin, "he was easily the coolest journ professor, a funny guy who'd inspire you with his brilliance. He commands a lot of respect just by knowing how intelligent, up-to-date, and kind he was to students."
Another former student and journalist, Edison Dy Ong, described him: "He always enters the classroom with a smile. Never a dull moment, indeed… It was also during his watch that Pilipino Journalism was introduced as a subject. Yes, writing news in Tagalog or Pilipino language."
UP Professor and Assistant Vice President for Public Affairs Jose Wendell Capili, who was also his UST student, said of him: "Journalists like Sir Kiko work in the background. His legacy is measured in terms of the number of lives he touched in school and his journalism work. His trophies are so many of us who did well because of his teaching, encouragement, and inspiration. He does not have a "script," but what he teaches, he derived it from years of industry experience. He brought inspiration to many of us who were just dreaming to see our names published."
In his 2002 interview with Nikki Lañas and Tara Perez, Ramon Francisco said: "We were taught Press Ethics in school, and our teachers at that time told us to be very, very honest and to uphold our integrity. I have been telling our reporters and my students not to succumb to graft and corruption and stick to integrity and preserve their reputations."