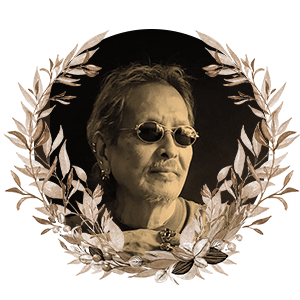 Artist and creative director for Filipino and international brands
December 8, 1940 – June 25, 2020
ROLANDO B. VILLAMAYOR (December 8, 1940 – June 25, 2020), also known as "Ding Villamayor", was an artist and a creative director. Often described as "Mr. Cool" by his friends and colleagues, this laid-back, unassuming and mild-mannered artist was also very opinionated and a great mentor, especially to his one and only granddaughter who is currently a Fine Arts student at UP Diliman.
Villamayor had a rocker fashion style — a staple black shirt, cargo shorts and hiking boots or sneakers, with those multiple ear piercings, bangles and his signature dragon tattoo on his right wrist. He might be mean-looking and badass in appearance, but Ding was certainly one great soul. He was very intense and passionate at everything he did.
He worked at McCann-Erickson Philippines (first as art director then later as creative director) from the early '70s until he retired in 1999. Some of the accounts he handled were San Miguel Beer Products, Goodyear, Levi's, Del Monte, Kentucky Fried Chicken, McDonald's, General Electric, White Westinghouse, Union Carbide, Bayer, RFM, General Motors, Isuzu Motors, Kodak, Philippine Plaza, Manila Hilton, Nestle, Citibank and Bank of the Philippine Islands. Some of his foreign assignments included McCann-Erickson Singapore, McCann-Erickson Thailand, McCann-Erickson Italy and McCann-Erickson Hong Kong.
He also had previous stints as art director at Asia Communication Center and The Motivators. Some of his awards and citations included Awards for Excellence, CLIO Award, Gold and Silver Awards from the Philippine Advertising Congress and Creative Guild's Choice Awards for various TV commercials and print ads for Del Monte, San Miguel Corporation's Red Horse campaign, GTE Yellow Pages, Goodyear, Levi's and Philips.
Villamayor was an avid fan of the outdoors. He enjoyed physical activities such as running, biking, rollerblading, jump rope and taichi, among others. He used to join marathons and running events in the advertising industry's 4 A's Cup. He was an artist extraordinaire. When he retired, he focused on making creative works like paintings, mini sculptures, found object art and interesting photography.
Rolando was born in Manila on December 8, 1940, to Dominador Villamayor and Angeles Beltran, both of whom were from Mauban, Quezon. He graduated from the University of Santo Tomas in 1962, with a Bachelor of Fine Arts degree.
On June 21, 1969, he married Lita Ilagan, an artist from the University of Santo Tomas. On April 8, 1970, February 26, 1971 and January 4, 1973, respectively, they welcomed their three children, Mini, Dino and Peachy. And on December 1, 1999, they welcomed their grandchild, Sophia, who became the apple of his eye. He passed away on June 25, 2020 at the age of 79. He is survived by his three children, Wilhelmina, Rolando Jr. and Patricia, his grandchild, Sophia, and brothers, Romulfo and Dominador Jr.