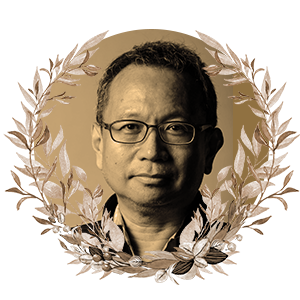 Playwright, Teacher, and Theater Artist/Director/Producer
May 2, 1957 – October 27, 2020
Carlito Casaje, Lito to friends, was a playwright, licensed optometrist, professor, journalist, theater artist, and independent film actor, director, and producer.
Born in Angeles City, Pampanga, he earned his MA in Creative Writing from the University of the Philippines-Diliman, and taught at De La Salle University in Manila. He also taught at La Consolacion College, where he was also Chair of the Communications Department and Director for the Center for Theater Education/Training and Digital Cinema.
He co-founded Dramatis Personae, a theater events-multimedia company, with playwright Bienvenido M. Noriega Jr. in 1989, and mounted many plays in different schools and venues.
His plays include Juan de la Cruz, New York City (1986), Separasyon (1993), Matrimonyal (1995), Padre de Familia (1998), Shooting the Boys (2010), Chiaroscuro (2016), Mishima (2017), and Bro (2018). Among his prize-winning unproduced screenplays are Ang Lalaking Nangarap Maging Anghel Ngunit… (1994) and Nokturnal (1998).
His poems were included in the Anthology of the Best Literature from 40 Countries Vol. 2 (2017), published by PEN Korean Center, Under the Storm: An Anthology of Contemporary Philippine Poetry (2011), and the UP Diliman Review.
His anthology of award-winning plays, Mga Premyadong Dula, published by the De La Salle University Press, won the Manila Critics Circle's 2006 National Book Award for Drama. In 2020, the University of the Philippines Press published Nokturnal at Iba Pang Dulang Pampelikula.
Casaje also wrote and directed the feature films Batang Pro (1999) and Dolores (2009), and several short films, including Cutud (2011), starring Jeffrey Quizon. Dolores was in the official selection of the Digital Lokal section of the 11th CineManila International Film Festival, as well as the 2010 Culture Unplugged Online International Film Festival.
In 2018, he returned to filmmaking to co-direct, with Choy Pangilinan and Charlson Ong, Tanabata's Wife, based on the classic short story by Sinai Hamada. The film swept the 2018 TOFARM Film Festival, winning best picture, best director (for Casaje and Ong), and other major awards.
He also dominated the screenwriting contest of the Film Academy of the Philippines with such winning entries as Siling Labuyo sa Kabilugan ng Buwan; Pag-ibig, Panaginip, Pag-ibig; and Sanctus, among others.
His plays and screenplays also won prizes in the Don Carlos Palanca Memorial Awards for Literature, Experimental Cinema of the Philippines, CCP Coordinating Center for Film, the University of Exeter Student Drama Playwrights' Festival, National Commission for Culture and the Arts, Manila Critics Circle, Catholic Mass Media Award, British Council Philippines, Goethe-Institut Manila, the Swedish Institute, and Norway's Ministry of Foreign Affairs.
He was an active board member of Philippine Center for International PEN. In 2018, he was one of the speakers of the literary conference that Philippine PEN and CCP co-produced. He was also one of the speakers of the first-ever CCP Playwrights Fair held during the Virgin Labfest 2019.
He was 63 when he passed away due to cancer.
His former student Suzanne Tan expressed her grief: "In my last two years, Sir Lito was my professor in three or four of our major subjects. He'd appreciate his students even if there were times that we were not in sync with him. He'd appreciate all our hard work …
"He was very lenient with his students. He'd always inspire us to appreciate filmmaking, the fine arts, and poetry. I remember attending one of his exhibits and he was very happy to see his old students see his works."