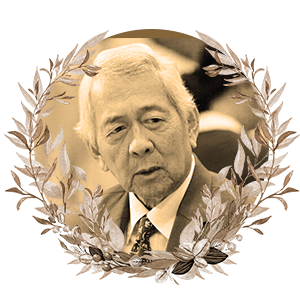 Lawyer, public servant, author, former Secretary of Foreign Affairs and former SEC Chairman, philanthropist.
January 27, 1947 – June 12, 2020
PERFECTO R. YASAY, JR. (1947 – 2020) was a writer and a government official who served under three presidents. In 1993, he was appointed Associate Commissioner of the Securities and Exchange Commission (SEC) during former President Fidel V. Ramos' term. Under former President Joseph Ejercito Estrada's administration, he was chairman of the SEC from 1995 to 2000. In the 2010 Philippine national elections, he ran for Vice President but lost the bid to former Senator Jejomar Binay. Yasay was appointed Secretary of Foreign Affairs in 2016 – in an ad interim basis – by incumbent President Rodrigo Roa Duterte.
While in exile during the martial law years, he passed the New York State Bar and became a member of the US Circuit Court of Appeals. While in New York, he was senior partner at two law firms – Maceda, Yasay & Tolentino Esqs. and Yasay & De Castro Esqs. – from 1979 to 1990. His areas of expertise included civil, criminal, and administrative litigation, public advocacy, corporate law, and election law. He was also managing director of the Maceda Philippine News from 1983 to 1987, and joined the Movement for Free Philippines with then Senators Jovito Salonga and Raul Manglapus. In the Philippines, he was commissioner of San Jose, Yasay and Santos Law Offices from 1987 to 1993.
Yasay authored several articles and commentaries on various fields of law which saw print in US-based Philippine publications. He hosted a live radio broadcast in Metro New York providing counsel and commentaries on legal concerns. He was also a visiting Professor of Law the Richardson School of Law of the University of Hawaii.
Yasay involved himself in philanthropic work, being chairman of the Board of Trustees of the Philippine Christian University and the Central Philippine University. He also authored the books "Out of the Lion's Den: The Travails and Triumphs of a Public Servant" and "Terminal Four: Corruption in America's Only Colony in Asia."
Business Week Magazine cited Yasay as one of the "Stars of Asia," alongside other prominent Asian leaders, for being at the forefront of change and striving for a firmer foundation for Asia. He was also a recipient of the EDSA People Power Freedom Award for his advocacy for transparency and the fight against corruption in government service.
Yasay finished his Bachelor of Arts degree in political science at the Central Philippine University, Iloilo City. He earned his law degree from the University of Philippines. He died of pneumonia as a result of complications of cancer on June 12, 2020 at the age of 73.