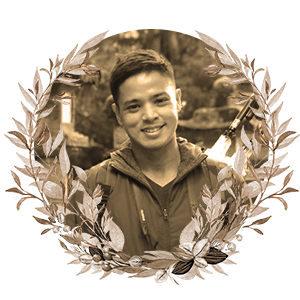 Stage Actor and Graphic Designer
November 8, 1986 – July 3, 2021
Daryl Zarraga, 'Darms' to friends, was a graphic designer, BPO trainer, and stage actor who delighted audiences with his presence, even in supporting roles. He would call himself "a middling actor based in Manila," but his string of credits belied that humble take on his calling.
He was born in Dagupan City, Pangasinan to Antonio Aseoche Zarraga and Irma Alcaraz Recio. The acting bug bit him early, and he dropped out of college to pursue acting. He worked at Theater Down South in Parañaque from 2007 until 2014, where he wore multiple hats as an actor, stage manager, assistant director, and teacher.
At the same time, beginning around 2010, he became a theatre instructor at De La Salle Santiago Zobel School in Muntinlupa City, where he also served as acting and stage management coach for its Greenlight Theater.
It was also this year he played Aaron Blunder in Philippine Opera Company's The Toyshop. "It was POC's Christmas show offering, where he played the evil magician, quite the opposite of his real personality. Daryl [was] a darling … one of the nicest persons I've met in this industry," Philippine Opera Company's Karla Gutierrez remembers him. "He [was] a trooper and a professional as an actor."
In 2014, Zarraga volunteered as an instructor for the theater program of the Tuloy sa Don Bosco Street Children Village, helping shape and educate poor, abandoned, abused, and neglected out-of-school children through theatre arts.
Also in 2014, he joined the Rude Mechanicals Theater Company of Muntinlupa City, where he played Malvolio and Sir Andrew Aguecheek in William Shakespeare's Twelfth Night and Sam in Joonee Garcia's Laro!, and as company member in Follow that Dream. In 2015, he took part in a staged reading performance of plays in progress for the Virgin Labfest.
In 2016, he joined Resorts World Manila's Full House Theater Company, where he played the Inventor in Chitty Chitty Bang Bang, and Cordell Hull in Annie. His other acting credits include roles in A Funny Thing Happened on the Way to the Forum, Fools, The Glass Menagerie, and A Midsummer Night's Dream. As a company member of Annie, he won the Gawad Buhay Award for Outstanding Ensemble Performance in 2017.
When not onstage, he trained virtual assistants at The Virtual Hub Philippines, where he was recruitment manager and technical training lead from 2016 until his demise. Before that, he was a customer service representative and then quality specialist for kgb, an information services BPO. He also worked as a freelance web and graphic designer.
He won the 2014 Anvil Award of Merit as part of the book design team for Philippine Army Special Forces: 50 Years of Valiant Service, a coffeetable book published by the Special Forces Regiment, Special Operations Command of the Philippine Army for its 50th anniversary in 2012.
It was his professionalism and his great sense of camaraderie that endeared him to many. Stage actor Anna del Prado remembers him as someone "respectful, kind, and comfortable to work with. I saw him again at an audition and he had his usual smile and positive attitude."
Actor Michael Williams said: "He was also very talented. He was gifted with a beautiful singing voice and had the sensibilities of a romantic lead. He also had an aptitude for production work and could crack the whip as a stage manager… Kind, funny, and with a sharp wit, Daryl was the youngest brother in our theater family. He was loved by all and everyone had a soft spot for him. We will miss him very much."