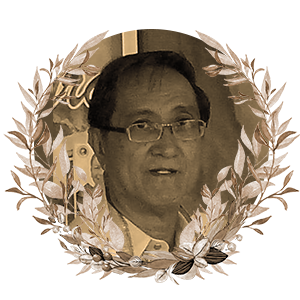 Poet, Essayist, Literary Critic, Proud Son of the Waray Language and Literature
August 30, 1949 – March 11, 2021
Dr. David A. Genotiva, Bing to family and Dave to friends, was a poet, essayist, and literary critic, widely credited for being one of the leaders in the revival of writing in Waray.
He was born in Tacloban City, Leyte to Crispin Salazar Genotiva and Gaudencia Amancio Genotiva. He earned his B.A. in English from Divine Word University in Tacloban, graduating magna cum laude, and went on to earn his M.A. in English, with distinction, from Silliman University in Dumaguete City. He held a Ph.D. in Comparative Literature from the University of the Philippines in Diliman, and taught at U.P. Tacloban and Leyte Institute of Technology (later the Eastern Visayas State University), where he was editor of Pagsubay, a multidisciplinary journal of EVSU's Graduate School.
He served as Executive Committee member of the Sub-Commission on Cultural Dissemination in the National Committee on Communication of the National Commission for Culture and the Arts. He was recipient of the 2013 Sangyaw Awards and the 2014 Lamiraw Awards.
Genotiva also sat as one of the panelists of the Silliman University National Writers Workshop. Together with Dr. Victor Sugbo and Merlie Alunan, he led the way to the revival of Waray literature. In 2003, he co-founded with them the Lamiraw Workshop in Calbayog, Samar.
According to Alunan, "[We] did not quite know what we were doing. Only two things we were sure of, we loved literature and shared an abiding respect for the Visayan mother tongues. Waray literature was fading from the cultural map. Like veritable Quijotes, we set out to change the landscape with a strange weapon—Anglo-American literature. But we must have done something right for Waray literature is bouncing back, still struggling, but with vigor and method. [This is part] of David Genotiva's legacy."
National Artist for Literature F. Sionil Jose considers Genotiva's passing "a great loss to Philippine culture." He wrote: "He was perhaps the most outstanding literary critic and teacher of his generation … [and] he infused his writings with a deeper understanding of philosophy that underlined the themes of much of our literature in English."
In an essay he wrote about the death of his brother Danny, Genotiva grappled with the gravity of mortality: "It's love that connects the land of the living and the land of the dead. Memory is another name for love."