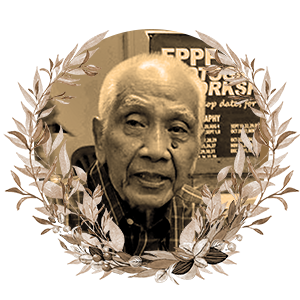 Photojournalist, mentor, and visual chronicler of the Benigno Aquino, Sr. trial
1935-2020
EDGARDO "ED" SANTIAGO (1935–2020) was a photojournalist whose career spanned more than five decades of working with a handful of major broadsheets in the country, starting in 1957. It was the era that would later be known as the Golden Age of Philippine Journalism. Santiago gained renown for his extensive photographic coverage of the trial of Benigno Aquino, Sr., whose assassination triggered the chain of events that brought down the Marcos dictatorship. He was a "failed" painter in that he could not master the painterly techniques but his vision and talent found expression and honors in photography. He was also a beloved mentor to aspiring photographers.
Forced to drop out as a Fine Arts undergrad from the University of Santo Tomas during his sophomore year due to the hardships of life, he had to give up his dream of becoming a painter for an apprenticeship at the rotogravure department of the Manila Chronicle. His then-teacher Vicente Manansala (who would later become National Artist) urged his father, a scientific illustrator-restorer at the National Museum, to instead give his son a camera as he "can't paint but sees things that no one else does."
Santiago's father followed the advice, gifting him with a Kodak camera. Santiago taught himself the rudiments of photography. In 1963, Santiago started taking pictures of shanties or barong-barong in the battle-scarred, poverty-stricken districts of Manila. One particular work, that of a barong-barong taken in the reclaimed area of Roxas Boulevard, became his first published photo. It was also then that veteran newspaperman Amante F. Paredes gave him his break as a contributing photographer at the Manila Chronicle.
From then on, Santiago would continue to produce compelling photojournalistic work for national newspapers such as The Manila Times (1966–1972), Philippine Daily Express (1972–1986), Philippine Tribune (1986–) and the Philippine Daily Globe. In 1981, he became the official photographer to the Papal Visit of Pope John Paul II to the Philippines wherein Santiago, in an interview, once recounted with pride: "'Yong first visit niya sa Manila, sa Cebu, sa Bacolod, sa Iloilo, sa Legazpi, ako [ang] kasama. Years later, he would return to his earliest subject, the barong-barong, for a one-man exhibit at the Filipinas Heritage Library. The barong-barong, along with his other leitmotifs such as jeepneys, fish bones, and dried leaves, clearly demonstrated his fondness for the simple and ordinary—and his gift for elevating such humble objects into works of art.
In 2011, his vintage photos of Intramuros juxtaposed with its state at the time would become his subject in a one-man exhibit called "Intramuros: Then and Now." In 2014, his vast collection of black-and-white original photos covering the trial of Benigno Aquino in 1973 were released—a collection of unquestionable import considering how documents and photographs from the Martial Law period were destroyed. Alongside his professional work, Santiago, remembered for his headstrong but unassuming persona, never failed to share his passion and expertise as he conducted photography lessons with the Federation of Philippine Photographers Foundation (FPPF) to aspiring Filipino photographers.