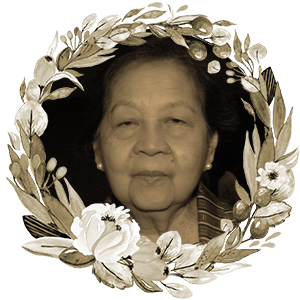 October 26, 1929 – October 7, 2022
Maria Teresita "Tessie" Jovellanos Jose and family lived in Ermita, Manila. In her youth, Tessie lived a sheltered life, studying at Holy Ghost College and the University of Santo Tomas. Her grandfather, Cesario, was a classmate of the country's national hero Jose P. Rizal at the old Ateneo. Her family owned an old house on Padre Faura Street, Ermita, Manila, which Tessie's father offered to her and her husband, the late National Artist for Literature F. Sionil Jose, as an office when the young couple was starting out as publishers. Tessie came up with the idea to open a bookshop as well, which would eventually become the famous Solidaridad. Their bookshop is–in the words of Cecilia Manguerra Brainard in her Sunstar newspaper piece from January 2022–the country's "most iconic" bookshop.
When Tessie was eighteen and a college freshman, she met F. Sionil Jose, who was at the time a struggling writer. Tessie's parents and relatives did not approve of him as her partner, but the two fell in love and, because they could not pay for a wedding yet, eloped after a year of being together. They rented a small apartment in Singalong, Manila where they started to raise a family. It was here that Tessie learned to run a household and take good care of her young family. She bought an electric sewing machine so she could mend the clothes of her husband and children. She learned to make her family's favorite dishes, which started her on her way to becoming an excellent cook.
Tessie, as Sionil's wife, had always been supportive in all possible ways. She traveled with him to attend conferences, writing and lecture grants, or when he would go abroad for research. She took care of different tasks and responsibilities like public relations and bookkeeping so her husband could focus on his literary and cultural writings, his Solidarity journal, the publishing house and art gallery, and their bookshop, Solidaridad. Tessie was the most gracious of hosts, entertaining friends and preparing food for guests during gatherings like the Philippine PEN meetings, of which her husband was the founder. The organization Philippine PEN described Tessie as "a great mother and friend to Filipino writers."
Tessie and Sionil had seven children: Jette (who passed on in 2021), Evelina Cichy, Antonio, Eddie, Eugene, Alex, and Nikko. After seven decades of being together, their love never waned—they were still sweet and loving to each other, holding hands when they walked and dancing often at home to their favorite songs. When her husband died in early 2022, Tessie performed the roles of mother, businesswoman, and grandma for as long as she could. Nine months after her husband passed, Tessie, "God's most precious gift" to F. Sionil Jose, breathed her last. And the literary community mourned the passing of this woman who did so much for her husband, in the process allowing the country to gain a prolific writer and national artist.