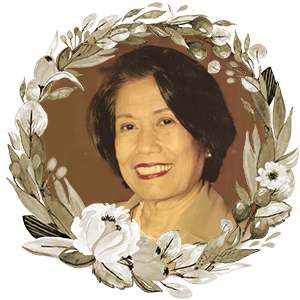 Journalist, Essayist
August 28, 1940 – December 28, 2020
Domini Maristela Torrevillas-Daof was an essayist and journalist.
She was born in Anakan, Gingoog City, Misamis Oriental to Gregorio Torrevillas and Corazon Maristela Torrevillas. After finishing high school at Gingoog Institute in 1956, she studied at Silliman University, earning her AB degree major in English in 1961.
She went into journalism soon after graduation, starting with a stint at the Manila Bulletin, becoming a staff writer and then editor of Panorama Magazine. She studied at Northwestern University Medill School of Journalism in Evanston, Illinois, earning her master's degree in 1967.
At the height of Martial Law, she was—together with other women journalists such as Ceres Doyo, Arlene Babst, Sheila Coronel, Ninez Olivares, Betty Belmonte, Melinda de Jesus, Eugenia Apostol, Malou Mangahas, Tina Monzon-Palma, and Letty Jimenez-Magsanoc—subjected to military threats, harassment, and intimidation for the daring in her reporting.
In 1987, Torrevillas left Panorama and joined Philippine Star, where she found her long-time home in journalism. Her long-running column "From the Stands" was an opinion staple at the paper, where she dealt with topics ranging from politics and political personalities to history and human interest. Many of these essays were anthologized in Philippine literature textbooks.
She was also editor of the books The Valiant Women (1995), Arling: Her Cup Runneth Over (2008), Cracks in the Armor (2011), and the Coincidence or Miracle series.
Torrevillas received the Outstanding Sillimanian Award in the field of journalism in 1980. She also received the rare honor of having a flower—a species of gumamela called Hibiscus rosa sinensis domini—named after her by the University of the Philippines-Los Baños Institute of Plant Breeding. In 2018, she became the first person to receive the Philippine Red Cross humanitarian media award.
She died of COVID-19 at 80 in her hometown of Gingoog City. She is survived by her husband, Mindanao peace and development advocate Saeed A. Daof, son Andres Torrevillas Suarez, daughter-in-law Joanna Caluag, and grandson Santi.
Her friend Senator Richard Gordon mourned her death, saying "the country lost one of the most distinguished and courageous members of the Press, who was not afraid to report the truth and share intelligent and well-studied opinions on important national issues and events. She was a principled and excellent writer who advocated many causes and promoted them through her columns."