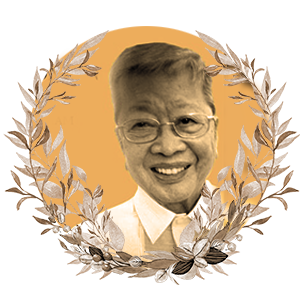 Journalist, Editor, and Fictionist
February 25, 1928 – March 11, 2021
Juan T. Gatbonton, Johnny to friends, was a fictionist, editor, and journalist.
Born in Candaba, Pampanga on February 25, 1928, his introduction to journalism came while studying at Mapa High School in Manila. He started with writing a column for The Mapazette. This led to matriculation at the University of Santo Tomas where he pursued a degree in journalism, but did not finish.
From 1954 until 1958, he worked for the Manila Chronicle's This Week Magazine, churning out his column "Little Reports," and eventually becoming the magazine's editor. He also became editor of the Sunday Times Magazine, and wrote for The Manila Times and Mirror Magazine.
In 1965, Gatbonton moved to Hong Kong to become editor for Asia Magazine. In 1969, he became editor for the travel journal Orientations until 1976. He also corresponded for Times Journal. He was also marketing manager of the Philippines Daily Express, the latter for whom he served as controversial president of the employees' union.
In 1951, he won the first Carlos Palanca Memorial Award for Literature for the short story in English, for "Clay," with Francisco Arcellana winning second prize for "Flowers of May" and Edith L. Tiempo winning third prize for "The Black Monkey." [Both would go on to be proclaimed National Artists for Literature.] National Artist for Literature NVM Gonzalez once held up "Clay" as the embodiment of New Criticism in the Philippines.
Gatbonton would win first prize in the Palanca again, for "A Record of Our Passage" in 1963. He would also win the Philippines Free Press Literary Award for both "Clay" and "A Record of Our Passage" in their respective years.
He became a close associate of President Ferdinand Marcos, joining the Department of Public Information and helping develop many of its important programs and publications. He later served as consultant to the Ministry of Information at the Office of Media Affairs.
His first significant foray into art and cultural writing came with Philippine Churches, which was published by the National Media Production Center in 1980. In 1986, he gathered his columns into the essay collection Little Reports, which won that year's National Book Award, and which he later expanded and republished in 2003 with the University of the Philippines Press.
After Gatbonton's last stint in government as a speechwriter for President Fidel V. Ramos, he turned his attention to art criticism, producing Art Philippines: A History: 1521-Present (1992), which he edited with Jeannie E. Javelosa and Lourdes Ruth R. Roa; The Art of Malang as Filipino (2002), and Malang Drawings (2009).
In his later years, he served as editorial consultant for the Manila Times. He died at 93.
In a tribute, journalist Yen Makabenta extolled "his exemplary writing style," describing Gatbonton as "a high achiever as a fiction writer, editor, and journalist. But he was also minimalist and Hemingwayesque in his writing style."
He also praised "JohnnyGat's" Little Reports as a "gem of a book" that "could well serve as a Philippine textbook on learning to write in English well."
National Artist for Literature F. Sionil Jose considers Gatbonton's passing "a great loss to Philippine culture." He wrote: "Johnny was always low key. His essays were elegant expositions on Filipino life."