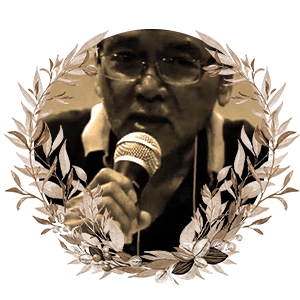 Poet, Essayist, Literary Critic
May 4, 1946 – April 23, 2020
Edel E. Garcellano was a poet, essayist, and literary critic. He was also a lecturer at the University of the Philippines-Diliman and taught writing and Philippine society and politics at the Polytechnic University of the Philippines.
Considered by many scholars as one of the most important and influential Filipino intellectuals, Garcellano always urged his students to work for the restructuring of the society in which they live. He once said: "The task is heroic. Poetry is a minor matter."
Pinoy Weekly columnist and fellow literary critic Teo Marasigan said Garcellano was admired by young students and teachers for his unabashed critical analysis, timely topics, and sarcastic humor..
Garcellano often used Marxist, progressive, and revolutionary lenses and many of his writings critique simplistic, conservative, and counter-revolutionary views on literature and culture.
He won several Carlos Palanca Memorial Awards for Literature: in 1997 for his poetry "Gin Tonic," in 1981 for his poetry "Poems," in 1983 for his novel "Ficcion," and in 1985 for his essay "Reportage on the State of Class War and Philippine Poetry."
His works include Collection (1983), Maikling Imbestigasyon ng Isang Mahabang Pangungulila (1990), Quadratic Silences (1991), Interventions (1998), Una Furtiva Lagrima (1993), Knife's Edge: Selected Essays (2011), and Vanishing History and Other Poems (2012).
The Interventions examines the significance in today's time of Panulat para sa Kaunlaran ng Sambayanan (PAKSA), a progressive organization of writers founded before martial law.
Some of Garcellano's works can be found at https://theworksofedelgarcellano.wordpress.com/.
Author Caroline Hau described Garcellano as "charismatic, funny, and provocative."
She also wrote: "More than critic and writer, Edel was a complex, brilliant man. He was my imagined and real-life interlocutor, the person whose voice echoed in my head whenever I took up a book to read and pen to write. Who are we working, writing for? What are the intellectual and political stakes of our research? Who benefits?"
Fellow literary critic Dr. Neferti X.M. Tadiar considered Garcellano "one of the most influential yet underappreciated Filipino intellectuals of the last few decades."
Garcellano passed away at the age of 73. He is survived by his wife Rosario Garcellano and children Liana Rhissa and Lyra Teresa.
In Facebook post, former colleague, writer, and literature professor Cristina Pantoja Hidalgo recalled working with Garcellano at the pre-martial law Philippines Graphic magazine in Manila's Port Area and spending most evenings at the nearby National Press Club with fellow writers Chato Garcellano, Pete Daroy, Amadis Ma. Guerrero, Ethel Ramos, Pablo Tariman, Norma Japitana, and Antonio Hidalgo: "Sometimes I think it's all still going on, in another dimension. Safe travels, Edel. I know we will all meet again."