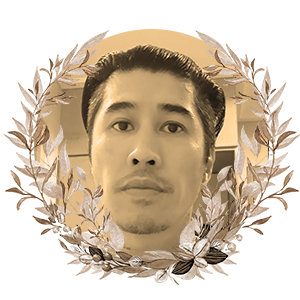 Visual Artist and Skateboarder
May 12, 1979 – January 20, 2021
Jeff Tan, JR to friends and family and 'Monkeeboi' to admirers, was a painter and skateboarder, who used "sarcasm and breaking the rules" as an abiding philosophy in his art and his life.
He was born in Bacolod City and grew up in Manila. He graduated from Xavier School in San Juan in 1997, and studied at the University of the Philippines in Diliman.
His early artistic influences included Voltes V, skateboarding and skateboard graphics, hip-hop, graffiti, and the art of Basquiat, and he produced works of intense imagination, thought-provoking imagery, and devil-may-care rule-breaking which polarized many.
It was fellow artist Joe Geraldo who advised him to just keep on painting, and so he continued to render his apocalyptic canvases of skaters, spirits, monkeys, naked bodies, skeletons, fire, and death.
His first solo show was "Blessed Wicked Izm" in West Gallery in Quezon City in 2014. This was followed by "Slipping Into the Unknown," also in West Gallery, in 2016.
"His paintings and drawings were invested with so much of his energy. They were nothing short of wild, electric, and psychedelic," the art website Vintana noted. For his part, Tan told Project 20: "I paint what I think is funny to me and not to other people."
In 2018, he was diagnosed with acute myeloid leukemia. "It was a humbling surreal experience," he said. "Going through chemotherapy [and] depression, and questioning if I was being bewitched, as told [to me] by a witch doctor. [But] it made my faith stronger, and it made me reconcile with my past."
His fight with cancer inspired his 2019 show, "Yes, Indeed!," which Vintana described as "a deliberate take on victory, on themes of life and joy."
Tan said: "My work depicts the landscape of my thoughts, and Death is personified as one of the antagonists and protagonists in my paintings." But ultimately, he also wanted his work to say: "God is real, and I still believe in aliens. I'm a sarcastic fool and I'm still alive."
His health took a turn for the worse in 2020, amid the start of the COVID-19 pandemic. Even while dealing with his physical and psychological struggles, he continued to make art. He had plans to exhibit a group of paintings that would depict different scenarios of the current pandemic. The series remains unfinished.
From the Bacolod Visual Arts website, this tribute: "Jeff Tan put his heart and soul without hesitation on canvas… If anything, Jeff shared himself through his art entirely—flaws, blunders, and all. And like a true-hearted daredevil, he loved art deep enough to commune with the entire process, welcoming joy and sorrow equally."