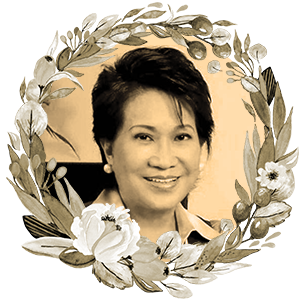 Legislator, Advocate for Women and Education
June 28, 1944 – May 14, 2020
MARIA TERESA AQUINO-ORETA (also known as Tessie Oreta, 1944 – 2020) led a distinguished career in public service. She served as Senator during the 11th and 12th Congress. Prior to this, she represented the district of Malabon-Navotas in the House of Representatives for three consecutive terms during the 8th, 9th and 10th Congress.
Born to Benigno S. Aquino Sr. and Aurora Aquino-Aquino, Oreta was the youngest of the Aquino children of Tarlac. Her siblings included the late Senator Benigno "Ninoy" Aquino Jr. who was assassinated in 1983; the late Agapito "Butz" Aquino who was also an elected Senator; and renowned director Lupita Aquino-Kashiwahara.
Oreta was a staunch advocate for education, women's health empowerment, livelihood and employment; food and health, children's welfare; and the improvement of public facilities. She made her mark as a legislator in the Lower House by authoring, and co-authoring, about 280 bills, 79 of which were enacted into laws. She proposed 101 local and national resolutions, 20 of which were adopted. During the 8th Congress in 1987 and the 10th Congress in 1995, Aquino-Oreta was Assistant Majority Floor Leader, becoming the first woman to hold the position in the history of the Lower House.
In her three years at the Senate, Oreta filed 197 Senate bills and resolutions. Among her bills that were signed into law were Republic Act No. 8980 or the Early Childhood Care and Development Act, and Republic Act No 8972 or the Solo Parent Act.
In 1999, her Project TAO (for Teachers' Advancement for Optimum Well-being), a comprehensive study and nationwide survey of the employment status, working conditions, and welfare benefits of public school teachers, was launched. She also authored Republic Act 6864 which led to the creation of the MAKATAO Center for Women, and was also responsible for enabling the issuance of pay slips for public school teachers for the first time in August 2000.
Oreta was Chairperson of the Senate Committee on Education, Arts and Culture in the 11th Congress where she continued to focus on the welfare of teachers. She often said, "I want to take care of the teacher so that the teacher, in turn, will take care of our children, so in turn our children will take care of the future of the country."
Oreta earned her International Studies degree from Ciudad Ducal, Avila, Spain. She completed her Master's degree in National Security Administration from the National Defense College of the Philippines, earning the rank of Lieutenant Colonel (Reserved) in the Philippine Air Force. She succumbed to cancer on May 14, 2020 at the age of 75.