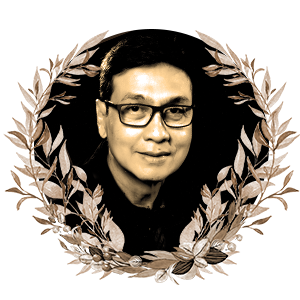 Film, TV, and Theater Actor; Art Patron, Visual Artist
August 21, 1952 – July 27, 2021
Born in Cagayan Valley as Luis Pagalilauan, Orestes Ojeda meant to become a professional basketball player and was a varsity player at his alma mater, the Philippine School of Business Administration.
That was before he was discovered by director Joey Gosiengfiao and convinced to join show business at the age of 17. He went on to become one of the most famous actors of the '70s and '80s.
He appeared in more than 115 movies and television shows. One of his very first projects was with Ariel Urieta in "Zoom, Zoom, Superman!" (1973), directed by Joey Gosiengfiao and Ishmael Bernal.
He was also in "Isang Gabi, Tatlong Babae" (1975), "Ang Boyfriend Kong Baduy" (1976), and "Dingding Lang ang Pagitan" (1986), playing the leading man for actresses such as Amalia Fuentes, Celia Rodriguez, Maria Isabel Lopez, and many others.
Ojeda was in the cast of National Artist Ishmael Bernal's 1980 classic "Manila By Night," as well as "Broken Marriage" (1983) and "The Graduates" (1986). He worked with Lino Brocka in the 1977 Metro Manila Film Fest entry "Inay" and starred in "Dingding Lang Ang Pagitan" (1986) with Maria Isabel Lopez.
He also appeared in the Aubrey Miles horror-flick "Sanib" in 2003, with Vilma Santos in "Dekada '70" (2002), and Susan Roces in "Mano Po 2: My Home" (2003).
Ojeda is perhaps most famously known for the film "Scorpio Nights" (1985), directed by Peque Gallaga. The film was one of the most daring and talked-about movies of the '80s and would push Orestes to further stardom.
He also acted in Bonifacio Ilagan's protest play, "Pagsambang Bayan." According to Susan V. Tagle, writing in a tribute post, Ojeda, "or Louie as we fondly called him," played the role of a priest in the play directed by Behn Cervantes and mounted by the UP Repertory Company in 1977.
Tagle wrote: "It surprised Behn, and many, that Louie accepted the role because 'Pagsamba' was a radical play. It spoke of the ills of society in the form of a mass. He portrayed the role so well that we looked beyond the handsome face and the well-built physique (he was an Ibanag from Cagayan), and instead hung on to his "sermon" for the powerful message it held."
Ojeda was also known as an art patron, opening up the Art Cube and Art Verité art galleries to support artists by providing them with a platform to showcase their works.
At the age of 68, Orestes Ojeda ended his battle with pancreatic cancer in a hospital in Taguig.
Writing in her Facebook account, daughter Lois Nicole Pagalilauan showed her appreciation for her father, who she said was also her mentor and friend:
"Thank you for everything, for fighting till the very end, for showing me what love is, for simply being you, and for sharing your heart with me, Daddy."
His former co-stars also shared their grief and paid tribute to the late actor. Anna Marie Gutierrez said that he was a gentleman, polite and kind.
Susan V. Tagle wrote: "He was also a quiet man, easygoing and always had a smile on his face. He did not act like a star in the presence of us students and was always friendly."
His family and friends always described him as having a gentle and caring heart. In his own quiet way he made an impact on both the film industry and the local art scene.