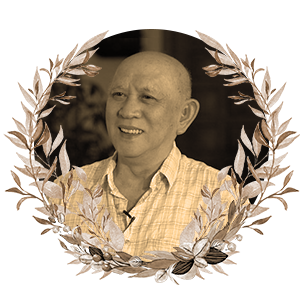 Revolutionary and dedicated peace talks leader
August 8, 1944 – July 23, 2020
FIDEL V. AGCAOILI (also known as "Ka Fidel", August 8, 1944 – July 23, 2020) was a Filipino activist, revolutionary, and peacemaker. His storied life demonstrated how his spirit was never broken despite imprisonment and torture; he dedicated his mind and heart to fighting injustice, tyranny, and the abuses committed by those in power.
Agcaoili was known as a dedicated peacemaker across seven administrations and was involved in bringing together the Government of the Republic of the Philippines and the National Democratic Front of the Philippines to draft, negotiate, and sign the 'Comprehensive Agreement on the Respect for Human Rights and International Humanitarian Law (CARHRIHL)' in 1998.
When President Marcos was approaching the height of his power in the 1970s, Ka Fidel was the Finance Officer of the Communist Party of the Philippines (CPP). He was a witness to many of the government abuses committed against the Filipino people and actively fought against them. Ka Fidel and his family went into hiding just before Martial Law was declared and this was when he helped found the National Democratic Front of the Philippines (NDFP) in 1973.
He and his family would be eventually be arrested and detained in 1974 but captivity could not silence his activism. Behind bars, he continued to protest against the poor living conditions of prisoners. This led to more punishment and torture. He had to spend the next decade of his life in prison.
When he was released in 1985, he founded the Samahan ng mga Ex-Detainee Laban sa Detensyon at Aresto (SELDA) which fought for the rights of political detainees and torture victims. The group filed the landmark class-action suit 'Hilao vs. The Estate of Ferdinand Marcos' in Hawaii for reparations to be awarded to more than 10,000 victims of human rights abuses under martial law. This shone a bright light on the suffering of the Filipino people for all the world to see.
During the 1960s, he studied Political Science at the University of the Philippines Diliman where he learned to understand and love Marxist philosophy. He would move to California to continue his studies and took an active part in protesting against the Vietnam War. When he came back to the Philippines in 1964, he founded the Kabataang Makabayan, a youth organization dedicated to Marxist ideology.
Born into an upper-class family, Agcaoili could have led a comfortable life without a care in the world. But he chose a life of meaning, no matter how hard-won. Up until the very end, he would hope for a better for our country. After all is said and done, he lived a life that manifested the very best quality of the Filipino: compassion for others amidst his own suffering.