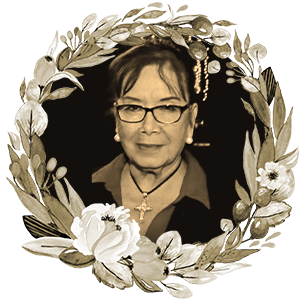 Visual Artist, Cultural Worker, Community Organizer
December 24, 1943 – April 17, 2021

Marietta Cartagena Alfon Jambora, Baby to friends, was a visual artist, cultural worker, and community organizer. She was a fierce advocate for many issues, primarily children's welfare and the environment. Born and raised in Cebu City, Baby studied at St. Theresa's College and had Laurice Guillen as a schoolmate. Film director Fernando V. Alfon was her uncle and award-winning author Estrella Alfon her great-aunt.
In 1990, she became project coordinator and organizer of a feeding program for the malnourished at the Scandinavian Village, the housing project for the poorest of the poor in Candau-ay.
Her daughter Anne A. Jambora wrote about this period, "She was a champion of the homeless, the street children, the environment and so many more, jumpstarting the first of many advocacies in the 90s with her weekly feeding program for street urchins in Dumaguete City… She nourished children not only with food but with hope through stories and songs about faith and Christianity. This gave birth to several other projects, including leading a team that built an entire village for the homeless from scratch."
In 2007, Baby became vice president of the Oriental Negros Children's Advocacy Network (ONCAN), a network of more than thirty NGOs catering to the needs of children at risk, including street children, children in conflict with the law, abused children, children from disadvantaged families, orphans, and children with disabilities.
In 2010, she became ONCAN president, and spearheaded many programs under its helm, including "Bayanihan para sa Kabataan," "Lakbay Aral," and "Wish Upon a Star."
Baby was part of the education committee of the Sidlakang Negros Producers Association starting in 2008. In addition, she served as Negros Oriental convenor for Bantay Bayanihan sa Kapayapaan, and undertook many campaigns, medical missions, and other community activities, often in coordination with the Philippine Army. One of her significant achievements was her role in the declaration of Negros Oriental as a place that is "Conflict Manageable-Development Ready."
Baby had many interests. Anne wrote: "She was also an artist, designing jewelry and furniture since I was a kid. In her late 60s, she taught herself wood sculpture. For years, until way into her 70s, she pounded on wood for hours on end in her garage, alone with her chisels and knives and mallets."
Baby was part of several group exhibitions, including "Kulay at Hugis" (2011). She was the proprietor of Generations Arts and Crafts and was the lead organizer of the 2010 Sidlakang Negros International Festival, a cause-driven multi-arts festival, that was participated in by foreign nationals in Negros Oriental, embracing and celebrating cultural diversities in history, culture, arts, education, trade, sports, and cuisine.
In addition to her advocacies and art, Baby was physically active. According to Anne, "Mommy was physically strong, too. In her prime, she used to beat men in tennis and went scuba-diving with my dad and the rest of the guys (she earned her Professional Association of Diving Instructors open-water certificate in the 70s)."
Baby passed away at the age of 77 after a six-month battle with cancer.
In a tribute, Anne wrote that her mother "was the strongest woman I knew. She had a determined mind and the grit and tenacity to follow through anything she set her heart on. 'Impossible' was not an option for her. She was fiercely independent, a formidable force…"