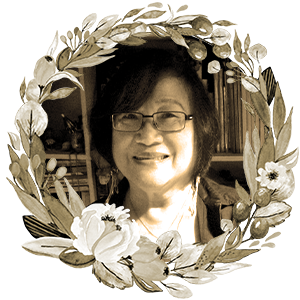 Artist, Educator, Creative Director, and Production Designer
July 20, 1944 – November 28, 2020
Margarita Revilla Simpliciano was an artist, educator, graphic designer, creative director, and production designer.
Maggie was born in San Miguel, Manila on July 20, 1944. She earned her Bachelor of Fine Arts degree, majoring in Visual Communication, at the University of the Philippines Diliman. She also has a Masters in Visual Communication from Syracuse University in New York, USA.
After working briefly with a top Manila ad agency, Maggie returned to her beloved UP College of Fine Arts to begin a teaching career nearly three decades long, from 1969 to 1996.
One of the pioneering professors of the Department of Visual Communication, Maggie was a teacher and lifelong advisor to all her students, some of whom had made their names influential to the Philippine art, design, production and advertising world.
Being mentored herself by names like Jose Joya, Billy Abueva, and Larry Alcala to name a few, she always applied lessons from real-life experiences. She taught with very tough discipline to all her students, who appreciated the resilience and grit imparted by the "Terror of the CFA" long after they had left the College. It was her firm belief that tertiary education should mirror life as much as possible.
During the 1980s, Maggie co-founded an almost all-female advertising and design agency, which successfully competed in a predominantly male-dominated industry. This she achieved even while teaching at the College of Fine Arts, enriching her mentorship further with real industry experience.
In the 1990s, she founded MRS Designs, which helped establish the fields of Food Styling and Production Design as disciplines worthy of pursuing as careers. Again, these experiences further added to her lessons to her students, many of whom became industry leaders and colleagues, even teaching her in return.
She passed away in Manila in 2020 after a battle with lung cancer.
Her energy, vision and impact upon all her students, colleagues, mentors and even family are one and the same, and can be summed up with these few words:
"Find the artist within, whoever you are. Be that artist within, everywhere you go."