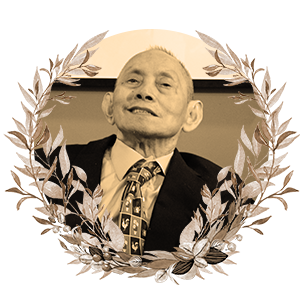 Sculptor, Poet, Political Activist
March 23, 1938 – December 28, 2020
David Medalla (David Cortez Medalla) was a sculptor, poet, innovator, socialist, political activist, and art community organizer.
Medalla was born on March 23, 1938, in Singalong, Manila, the eldest of four children of David Medalla Sr. and Juanita Angkay Cortez who migrated from Cebu to Manila.
In 1949, he transferred from the Ermita Catholic School to the Philippine Normal School Training Department where he finished elementary at age 11, receiving his only academic diploma. Medalla was a voracious reader and autodidact, attending high schools in the University of the Philippines (UP) system in Manila and Diliman, and St. Mary's in Sagada, Mountain Province.
In 1954, UP President Vidal Tan allowed the 16-year-old Medalla, already a published poet at that time, admission to the College of Liberal Arts without a high school diploma. Tan assessed Medalla's mental abilities as "approaching genius." Not long after, his professors recommended that Medalla receive a grant from the George Jonas Foundation to attend Camp Rising Sun, an international summer camp for gifted writers in Rhinebeck, New York.
In 1954, Medalla moved to New York after American poet Mark van Doren enabled Medalla's admission into Columbia University to attend classes in philosophy, modern drama, classical literature, and Greek drama, as well as workshops in poetry and music.
By virtue of having been a student of literature and philosophy at Columbia, David was also greatly influenced by poetry. In an interview with Adam Nankervis, he said he read translated Chinese poets such as Li Po and Tu Fu. He also read works popular in the Western canon, such as those written by Shakespeare, John Milton, and Walt Whitman. These helped him envision the outputs he made that carried the influence of not only the texts he consumed but also the influences of the contemporary painters, writers, thinkers, and musicians of his time.
While in New York, Medalla spent much of this time meeting poets and painters in Greenwich Village, including New York-based Filipino poet Jose Garcia Villa (who later became National Artist for Literature) and Filipino painter Alfonso Ossorio, a close friend of Jackson Pollock. It was at this juncture that Medalla began to seriously draw and paint.
Medalla then moved to the United Kingdom and worked out of Bracknell, England. His success came as a result of over 50 years of working around, but rarely within, the established systems of European, American, and Philippine museums, art journals, and commercial galleries.
He was at the forefront of the science, technology, and art wave of the 1960s (he co-founded Signals London, an avante-garde gallery, and Signals Newsbulletin), the tumultuous political movements of the 1970s (he founded Exploding Galaxy, an international group of multi-media artists, and Artists for Democracy, a group of artists involved in an artistic and political form of movement edging toward a "socialist revolution"), the anti-materialistic wave of the 1980s (he roamed Europe giving proto-art performances), and the postmodern triumph of the 1990s when anything was possible.
In 1969, at the inaugural launch of the Cultural Center of the Philippines, David Medalla and two of his colleagues were part of a "performative protest" against Ferdinand and Imelda Marcos. Medalla had a poster that said "Down with Philistines!" and was thrown out of the event.
Medalla was most known for his "auto-creative sculptures" or kinetic and participation art works, particularly "Cloud Canyons" (AKA "Bubble Machines"), "Sand Machine," and "A Stitch in Time," where he pointed to alternative uses of the environment, materials, and spectators as these innovations challenged traditional understanding of art.
His "Cloud Canyon" sculptures are a culmination of several inspirations: when he saw a Filipino guerilla's mouth froth blood when shot by a Japanese soldier, when he watched his mother cook guinataan, and looking up at the clouds over Manila Bay. The sculptures were also inspired by his frequent traveling and having to look up at the sky. His sand machine sculpture was also invoked by his memory of the payyao (rice terraces) in the Philippines, but also by sandstorms when he was traveling the Sahara Desert.
His "A Stitch in Time" is a participatory work in which people from different backgrounds and upbringings sewed symbols, objects, and letters onto an extended piece of cloth, a practice that went on for decades. This was inspired by an encounter he had in Amsterdam airport, where he met a stranger whose backpack was decorated with a long piece of cloth on which were tied ornaments and personal relics. On the cloth was a handkerchief David had given to a lover many years before – that lover gave David's handkerchief to the stranger.
Medalla created different versions of "A Stitch in Time," starting in 1968, and these works have been installed in many spaces including the Philippine Pavilion at the 57th Venice Biennale, 2017, and the National Gallery Singapore, 2018.
Medalla's living sculptures were recognized by many contemporary European philosophers and thinkers of his time, such as Gaston Bachelard. French painter and sculptor Marcel Duchamp created the Medallic Structure in 1968 as a tribute to David Medalla himself.
Medalla's works were exhibited in numerous international art fairs and exhibitions, including Live in Your Head: When Attitudes Become Form, 1969, Bern, Switzerland; Pioneers of Participation Art, 1970, Oxford, England; and Documenta 5, 1972, Kassel, Germany. After the publication of Guy Brett's Exploding Galaxies, 1995, demand for his works took off in other major cities.
He held dozens more exhibitions worldwide over the decades, at prestigious venues including New Museum, New York; Centre Pompidou, Paris; Musee de la Ville de Paris; Centro Cultural do Belem, Lisbon; Museum of Contemporary Art, Los Angeles; Institute of International Visual Arts, London; Whitechapel Gallery, London; Tate Modern, London; El Cuartel de Conde Duque, Madrid; ICA London; and in Tokyo, Johannesburg, and Chile, among others.
He founded the all-inclusive London Biennale in 2000 and was its director up to 2020. He also participated in several biennale events, including the ones in Johannesburg, Sydney, and Venice, as well as the 8th Asia Pacific Triennale in Brisbane (2015), and the 9th Mercosul Biennial in Porto Alegre (2013).
Medalla's works are now in the collection of major museums. His "Cloud Canyons No. 3: An Ensemble of Bubble Machines," 1961, was purchased by the Tate in 2006. "Cloud Canyons" and "Some Reflections on the Random in Life and Art, 1963–1985," is now in the collection of the Museum of Modern Art (MoMA).
In 2016, Medalla was shortlisted for the Hepworth Prize for sculpture. For the Prize exhibition, he presented new versions of two of his works done in the 1960s, "Cloud Canyons (1964-2016)" and "Sand Machine (1963-2016)."
On December 28, 2020, he passed away in his sleep, and is survived by his partner, curator Adam Nankervis.
Art critic Guy Brett, Artscribe contributor Brandon Taylor, Happenings historian Frank Popper, and Third Text founder-editor Rasheed Araeen have asserted that Medalla's propositions were some of the most elegant and insightful strategies in British art.
These longtime supporters and others have doubtless weighed in on Medalla's subsequent presence in catalogs and biennales intent on reevaluating contemporary art history. Not surprisingly, it is among polyliterate audiences on the global stage that Medalla's works and ideas receive warm circulation and appeal.