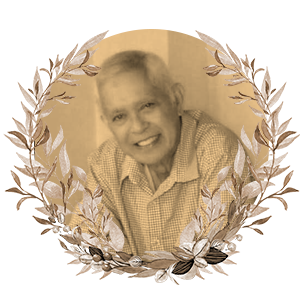 Diocesan Priest, Playwright, Stage Director
April 13, 1945 – March 14, 2021
Fr. Rodulfo Martinez Galenzoga, known as 'Fr. Dong,' was a celebrated diocesan priest who was very passionate about the arts. He was the first home-grown Catholic priest in his hometown, renowned as a peacemaker and a champion of interfaith dialogue, bringing groups of Muslims and Christians together since the 1970s when dissension threatened to tear them apart.
Galenzoga was ordained at the San Isidro Labrador Parish of Tubod in Lanao del Norte, on December 23, 1969. In 2019, he celebrated his golden jubilee as a priest in Dapit-Alim, which is the sanctuary he co-founded with the Kahigalaan ni Hesus (KH) between Tubod and Kolambugan town in Lanao del Norte. He was often described as a man who loved peace and who worked for unity among the peoples of different cultures and religions in Mindanao.
Fr. Dong chose to live in a sequestered place of Dapit Alim, where he built a chapel for people of different beliefs and faiths. He served as a consultant and a member of the presbyterial council of the Iligan Diocese after retiring from regular priesthood duties at the age of 70.
Based on the essay he wrote entitled "A Josefino in the Ministry of Interreligious Dialogue" (2012), the war in the 1970s and the declaration of Martial Law contextualized Fr. Dong's priesthood. The essay was published in Insta, the official publication of San Jose Major Seminary at the Ateneo de Manila University (AdMu) where he accomplished his goal to finish theological seminary formation.
In 2011, the San Jose Seminary Alumni Association granted Galenzoga the San Jose Award in recognition of his commitment to and compassion for interreligious dialogue and service among the Muslims and lumads (indigenous peoples of Mindanao).
Fr. Dong, according to his colleagues, was a man deeply committed to interreligious dialogue. He was also an art practitioner, specifically a playwright and stage director, supporting the value of the arts and what it can bring to the world. He staged 135 plays around the country in the mid-1970s.
A peacebuilder during his existential years, he was a consistently virtuous lesson-filled storyteller and an initiator of great creativity while serving the church.