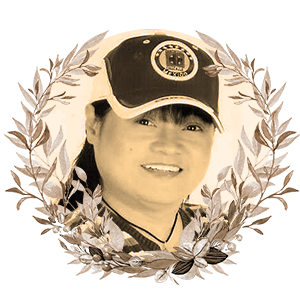 Singer, Songwriter, Actor, TV Show Host
April 9, 1961 – November 29, 2020
April Boy Regino, born Dennis Regino Magloyuan Magdaraog, was a singer, songwriter, movie actor, and television host. He was one of the most popular singers during the '90s and was known as the "Jukebox King."
Regino was born in Marikina and grew up in the slums of Caloocan near a railway. As the eldest among three brothers, he helped his parents earn a living by selling street food, and was often asked to sing for customers. At age 10, he joined amateur singing contests in nearby provinces, quitting school in sixth grade to concentrate on singing for prize money. At 18, he took a singing job in Japan where he worked for eight years.
In 1993, he formed the pop-rock group April Boys with his brothers Vinggo and Jimmy and their mother as producer. Their music was played on the radio but the group never quite reached the amount of success April Boy had when he went solo.
In 1995, he launched his first album "Umiiyak ang Puso Ko" and scored a string of massive singles including "Paano ang Puso Ko" and "Di Ko Kayang Tanggapin." The latter's catchy melody partnered with a snappy dance move that later on became Regino's trademark (crisscrossing the arms above the head during the chorus) marked an unforgettable act in Philippine music history.
He branched out to more career opportunities in 1996 and took a stab at acting, starring in movies with Joey De Leon: "Ang Misis Kong Hoodlum" and "Takot Ako sa Darling Ko." But he went back to creating music after that. In 1997, he was given the moniker "Jukebox King" when his next album was released and went triple platinum.
His songs were criticized as "tacky" or "baduy" despite his powerful vocals and the impact he'd had among Filipinos. April Boy only had one thing to say: "They call me baduy because all I sing about is love. But everybody falls in love, kaya lahat ng tao baduy, 'di ba?"
He produced a total of 13 albums over the course of his career: "Umiiyak ang Puso" (1995), "Idol Ko, Idol Na 'to" (1997), "Salamat Sa Iyo" (1998), "Super Idol" (1992), "Legends Series: April Boy Regino Greatest Hits" (2002), "Philippine Idol" (2002), "Tunay Na Idol" (2004), "Idol" (2008), "Diary: Old Songs 1950 – 1970" (2008), "Jukebox Idol" (2008), "Diary" (2012), "Legends Series: April Boy Regino" (2012), and "Hesus Tanging Hiling" (2015).
He also staged a major concert at Araneta Coliseum and hosted a noontime show, but later went on a five-year hiatus. In 2005, he migrated to the United States and worked as an entertainer to the Filipino-American community. He returned to the Philippines in 2010 and signed a contract with Viva Records.
Unfortunately, the Jukebox King had been struggling with prostate cancer since 2009, when he was in the U.S., information made public only in 2011. But his illness did not stop him from staging a free concert in 2013, inspiring and encouraging the victims of typhoon Yolanda in Tacloban City.
Later he was also diagnosed with diabetic retinopathy and was blind until an operation. Throughout everything, his wife Madel stayed by his side, helping him regain his faith in God by praying and studying the Bible with him as he recovered. These experiences inspired him to write songs of praise for the Lord, one of which was "Tanging Hiling" (2015).
In April 2019, he signed a recording contract with Lodi Records but no album was produced. He died at 59 from chronic kidney disease and acute respiratory failure.
April Boy captured people's hearts with his catchy and award-winning songs, but more than that, he served as an inspiration to his son, Christian, who dreams of following in his father's footsteps: "I bear in mind what Daddy [kept] on reminding me, 'Lagi kang magpapakababa dahil ang mga nagpapakababa ay itinataas, at ang mapagmataas ay ibinababa ng Diyos.'"