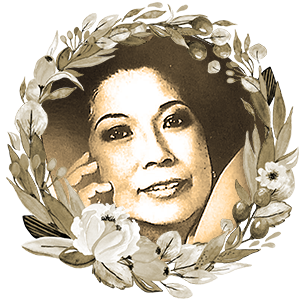 Gawad CCP para sa Sining Pantanghalan Awardee (1997) and Pianist
September 22, 1935 – June 4, 2021
Nena del Rosario-Villanueva was only 10 years old when she made her orchestral debut in 1945, playing Mozart with the Manila Symphony Orchestra under Herbert Zipper at the old Assumption Convent on Herran Street.
By the time she was 12, she had performed at Carnegie Hall, for a benefit show, and later again at age 15 for a recital with the New York Philharmonic Orchestra after winning a musical competition sponsored by the New York Times.
The first acknowledged Filipino child prodigy in piano, Villanueva studied at the Curtis Institute of Music in Philadelphia under Madame Isabelle Vengerova and was the first Filipino to graduate from the Institute, where she earned her Artist's Diploma in 1956. She also studied under Ilona Kabos and took lessons with Vladimir Horowitz, who considered her his favorite pupil.
The pretty and charming pianist with a 23-inch waistline was the talk of Manila. She went on to triumph after triumph, appearing with many renowned orchestras, among them the Little Symphony of New York, the CBS Symphony, the New Haven Symphony, the NHK Orchestra under Seiji Ozawa, the Japan Philharmonic, and the Orchestra Villa de Madrid.
Her talent took her around the world to perform concerts in the countries of Japan, China, Spain, France, Ecuador, and the cities of Hong Kong, London, and New York City, to name some.
Villanueva played chamber music with world-famous artists such as cellists Mstislav Rostropovich, Renato Lucas, and Geronimo Velasco; violinists Rony Rogoff and Oscar Yatco; violist Dino Decena; and contrabassist Antonio Rodriguez at the International Bamboo Organ Festival.
She also played with the Philippine Philharmonic Orchestra under Maestro Piero Gamba, and was soloist in Prague under the baton of Maestro Ruggero Barbieri during the orchestra's European tour. In 2002, she did solo recitals at the Musée de l'Armee at the Hotel National de Invalides in Paris in May and at the Santory Hall in Tokyo in November.
Her talent was such that she played with every Filipino conductor and orchestra of note in the Philippines.
In 1997, she received the Gawad CCP para sa Sining Pantanghalan, in recognition of "her singular artistry at the piano, for a talent that seems to only get better with the passage of the years, providing younger artists with a standard of excellence to strive for."