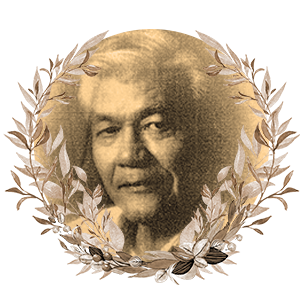 Cartoonist, Painter, Sculptor, Set Designer for Theater Productions
January 1, 1933 – October 6, 2020
Teodorico P. Cumagun Jr., Jun to family and friends, was a cartoonist, painter, sculptor, and set designer who was known for his exquisitely rendered stage designs and his paintings of landscapes and fervent religious themes.
He was born in Ilagan, Isabela to Teodorico M. Cumagun Sr. and Remedios B. Paggao. He studied at the School of Fine Arts of the University of the Philippines (UP), and was a member of the batch under the deanships of renowned masters Fernando Amorsolo and Guillermo Tolentino.
He attended the school from 1951 to 1954, but dropped out to become cartoonist and editorial artist for the Philippine Herald. He worked for the publication for nine years before it was closed down during the martial law era, after which he decided to become a freelance artist for print media.
He also decided to run a school in Batangas for aspiring artists, mentoring many kids including his son Bo who would go on to become an internationally-renowned visual artist.
While a student at UP, he stayed at St. Joseph's College, also in Quezon City, where he received free board and lodging in exchange for painting the sets of their theatre productions. This was where he met his wife Erlinda Rili, who was then a stage manager for Zenaida Amador who, together with Baby Barredo, was directing the school's theatre group at that time.
He became a set designer for Repertory Philippines, with 'Dracula' as his first project in 1974. But it was his work for 'Fiddler on the Roof' in 1977 that won him the admiration of Rep's Amador and Barredo, and thus became his signature piece.
He captured the mood of the musical so perfectly that, according to a critic, "one could actually see the leaves fall." He considered his set design for 'Snow White' as one of his best works, and was lauded for creating an enchanted forest on stage.
He stayed with Rep until his retirement in 1991, but often came back to lend an artistic hand for productions of 'Les Miserables,' 'My Fair Lady,' 'South Pacific,' 'The Emperor's New Clothes,' 'Scrooge,' 'Man of La Mancha,' and 'Camelot.' He worked on over 160 productions for Repertory alone.
He also helped in the design of various stage productions of schools such as The Little Nazareth School in Miracle Heights in Lipa, Batangas mindful of doing his part to foster the arts in his hometown.
He was known for his larger-than-life reproductions of the Laurel drawing pad designs. His painting, "He Went About Doing Good" was a finalist at the 10th International Art Competition of the Church of Latter Day Saints in 2015, and is now on display at the Church History Museum in Salt Lake City, USA. His other works are on display at Casa Segunda in Lipa City.
According to his son, the writer Derik Cumagun, his father was "an exceedingly fine artist, and a patriarch in our church. He lived his life for his family, for the pursuit of beauty and truth in his art, and for the fulfillment of righteousness according to His gospel."