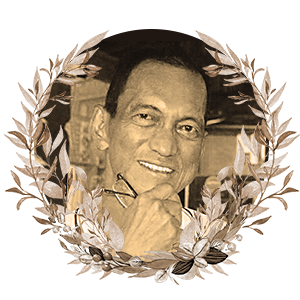 A writer in several genres including theater, film, television, fiction, and even komiks. His career spanned both popular and serious art and he became the "official screenplay writer" of Fernando Poe, Jr. (National Artist for Film) for many of Poe's movies from the 1990s to early 2000s.
1951 – 2020
MANUEL REYES BUISING (1951–2020), also known as Manny Buising, was a screenwriter, playwright, fictionist, and komiks writer.
Buising was a finalist in the 1990 CCP Playwriting Contest for his entry Patintero. He also won several times in the Carlos Palanca Memorial Awards for Literature for pieces such as Tumbampreso and Kung Bakit May Nuno sa Punso in 1988, Pwera Usog in 1989, Lista sa Tubig and Patay-Bata in 1990, and Kung Paano Balatan ang Talop na Bunga in 1991. He was elevated to the Palanca Hall of Fame after winning his fifth first prize for Ninos Inocentes in 2005.
Buising was also popularly known as the official screenplay writer of Fernando Poe Jr. He first received a fellowship in the 1st Fernando Poe Jr. Fellowship in Screenwriting Contest for Sukdulang Ibalik Kita Sa Pinanggalingan Mo, 1990. The films he had written for FPJ include Mabuting Kaibigan, Masamang Kaaway, 1991; Dito sa Pitong Gatang, 1992; Hagedorn, 1996; the original Ang Probinsyano and Eseng ng Tondo, 1997; Ang Dalubhasa, 2000; Ang Alamat ng Lawin, 2002; and Pakners, 2003. In 1998, he shared with Pablo S. Gomez the Best Screenplay award from the Film Academy of the Philippines for Nasaan ang Puso. His television scriptwriting credits include Four da Boys, Spotlight, Babae, Calvento's Hotline, Alagad, Mga Anghel na Walang Langit, Eva Fonda, My Binondo Girl, Walang Hanggan, among others.
As a komiks writer, Buising's works came out in leading publications. He also wrote for publications such as Liwayway, Pilipino Reporter, PENTMAG, and Patok. In 1986, his story Matandang Putol won first prize in the People Power Story Contest of the newspaper Ang Pilipino Ngayon.
Buising obtained his degree in Education, major in Filipino, at the Pamantasan ng Lungsod ng Maynila in 1972. He worked for the government since 1974, starting as a writer at the Department of Local Government and Community Development. He also became staff director of the National Secretariat of the Bagong Kilusang Kabuhayan at Kaunlaran; he was a board member of the Movie and Television Review and Classification Board (MTRCB).
In his Twitter bio he described himself as "utak-gala at daliring likot … pasampay-sampay … pasundut-pasundot … kasi, writer daw ako… (wandering mind and hyperactive fingers … hanging … poking .. because, I am a writer, they say"). It was written in jest, but it was a perfect example of how the creative mind of Manuel Buising worked.