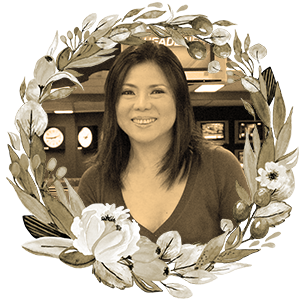 Journalist and Children's Story Writer
May 9, 1964 – January 14, 2020
Fearlessness ran in her blood, whether it was for her brand of uncompromising journalism, the criticism she hurled towards poor governance, or the cancer that she was diagnosed with and battled with ferocity.
Muriel Andaya Macaraig—'Twink' to everyone—was a broadcast and print journalist and award-winning children's story writer.
Manolo Quezon, for whom she served as producer in ANC, said of her: "She was proud of her calling and dismissive of those who failed to uphold the standards of the profession, believing it had a vital contribution to make to, if not the betterment, then at least the resistance against destruction, of the country. And she knew our country well, as only the chasers of stories can: the smell and filth of it, the unheralded joys of it, the beauty and brutality of it, the folly of it."
Macaraig was born in Pasay City to Catalino Macaraig Jr., who served as executive secretary of President Corazon Aquino, and Araceli Villareal Andaya. She received her bachelor's degree in mass communication from the University of the Philippines. She became a columnist of the Philippine Star and Esquire Philippines, and a part-time faculty at the UP College of Mass Communication.
Prior to her work for News5, where she was an anchor and a senior news manager, she was also the anchor of ANC's Dateline Philippines and co-host of The Brew with Nadia Trinidad and Gang Badoy. She was also the bureau chief of Channel News Asia, and a former vice president of the Foreign Correspondents Association of the Philippines (FOCAP).
Her children's story, "What is Serendipity?," about a girl who searches for the meaning of the titular word, won first prize in the 1994 Don Carlos Palanca Memorial Awards for Literature. That same year, she also co-authored The Ultimate, Absolutely Indispensable Guide to Food Delivery in Metro Manila with Rufi Vigilar.
Macaraig was first diagnosed with breast cancer in the early 2000s. It became a defining experience for her—she wrote about it with courage, and in facing death in the face, found herself galvanized into living. In a piece titled "Why I Fight" published in the Philippine Star on March 24, 2019, Macaraig wrote: "I've long made peace with my demise. My last will and testament—handwritten amidst many tears—is in the safe. I could Give Up. Succumb. Surrender. But I won't. While the very heart of me—that chamber that stores my conscience and conviction, love and dreams, memory and self-respect—remains unbreached, I will fight."
She is survived by her husband, urban planner and landscape architect Paulo Alcazaren, and son Juancho.
Quezon, in his tribute to her for the Philippine Daily Inquirer, wrote: "The best journalists have never been objective: They loathe hypocrisy too much, love the truth too much, retain, despite their hard-boiled exterior, a tender feeling for ordinary people and a hatred of abusers, too much… Twink was transparent about what she disliked, and, unerringly, who or what she disliked was a good guide to what or who was truly wrong. Like the best of them, she gave freely of her gifts."