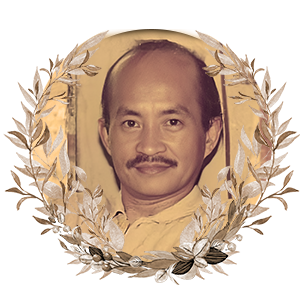 Samarnon Poet and Photographer
July 23, 1940 – November 16, 2021
Aniceto Obrero Llaneto, who used the pen name 'Estrella Maqueda,' was a three-time FOCUS Philippines special awardee in poetry and a prize-winning creative photographer. He wrote poetry in Samarnon (Waray) and English.
Totoy, as he was known to friends and family, grew up in Burak, Catbalogan. He attended Catbalogan Elementary School and Samar High School, from which he graduated as class salutatorian in 1957. It was then the only high school on the whole island of Samar.
Llaneta took up Agriculture at the University of the Philippines (UP) in Los Baños where he became the editor of the school's student paper, Aggie Green and Gold. He then shifted to Journalism at the Manuel L. Quezon University.
While working for several government agencies, he also began a career as a freelance photojournalist. His photographs won him two photography awards from the Federation of Filipino Photographers. He also served as a speechwriter for statesman Carlos P. Romulo and then-Mayor Joseph Estrada.
Llaneta wrote numerous poems, some of them epics, about his hometown Catbalogan and Samar's environment, particularly Maqueda Bay. It was his house in Burak facing Maqueda Bay that must have inspired him to adopt the pen name 'Estrella Maqueda' (Star of Maqueda).
His poems were published in FOCUS Philippines, Philippines Free Press, Philippine Daily Star Magazine, The Manila Times Sunday Magazine, MOD Magazine, Women Magazine, special publications, local souvenir books, and the book O, Catbalogan.
According to Leticia G. Bautista, Llaneta was a "master satirist" writing with "a biting sense of humor and a deftness with the English and the Waray languages…" She traces his literary influences to Kerima Polotan, Pablo Neruda, Walt Whitman, Boris Pasternak, TS Eliot, and Federico Garcia Lorca.
In 1990, Llaneta co-edited, with Charo Nabong-Cabardo, the Samarnon edition of the Cultural Center of the Philippines' literary journal Ani. Two of his epic poems were published in this journal – "Catbalogan," an ode to his beloved hometown, and "Haromamay Kon Hi Ako an Imo Ginhigugma" ("Just Imagine Had You Loved Me") – which were translated into English by his daughter April.
In 1994, his high school recognized him as one of its outstanding alumni. In 1996, he became a Fellow of the 27th UP National Writing Workshop held in Tagbilaran City.
An admirer of Russian writers Boris Pasternak and Aleksandr Solzhenitsyn, Llaneta worked on translating some of their works into Samarnon.
Llaneta is considered the most important poet in Samar, writing in the local language of the Samarnons from the 1950s to date. He succeeded a generation of Samarnon poets, among them Tomas Gomez, Jose Gomez, Filomeno Quimbo Singzon, Vicente Dira, and Vicente Panzo, who were versed in Spanish but began writing in the Samarnon language from the 1920s to the 1950s.
Llaneta's poems on the environment hearken back to a time when Maqueda Bay was a paradise for fishermen harvesting the sea's bounty. His poem "Ha Panahon han Tiktikbolan, Ngiya-ngiya, Tamboboray, Kalompihig og Sapi-sapi," gives a picture of the wealth of marine products no longer seen today. His poetry has become a rare mine of the Samarnon language and a rich visualization of the seas, mangroves, and forests of Samar of earlier generations.
When he was living in Diliman, Quezon City, he loved to plant trees and vegetables when not playing chess. He is survived by his wife Leticia Bautista Llaneta, with whom he had six children: Jose, April, Tania, Yury, Yevgenii, and Gabrielle (+).
To those bereft upon his passing, he left the solace of "lus-ay nga mga polong, lamrag, gugma, ug an kadayonan" (pure words, light, love, and eternity), in these verses from one of his most famous poems:
Last stanza of "Haromamay Kon Hi Ako an Imo Ginhigugma," translated by April Llaneta
Ayaw igsubo, minayoyo, kon nahibilin nga hinumduman
Os la nga ba-ol hin darag, punyal, sista, ug hungot nga irimnan
Pagtipigi gad gihapon, pagpotsa han akon lambong
Nga igsompa ha atbang hin harap nga tibaraw,
Binalighot nga mga tol-an
Nagkakanay nga tina-e nga mga samad nga gin-igsan.
Pag-abot han takna nga'n ba-ol imo na tutoksan:
Karawta an halad ko: Lus-ay nga mga polong, lamrag, gugma, ug an kadayonan."
(Don't be sad, Beloved, that the memory I am leaving you
Is only a trunk full of dead leaves, a dagger, a guitar, and a
drinking shell
Keep them just the same and wrap with my shadow
And swear on it before a blind spider, knotted bones,
messy entrails, and wounds with maggots
When the time comes for you to open the trunk –
Accept my offering: pure words, light, love, and eternity.)