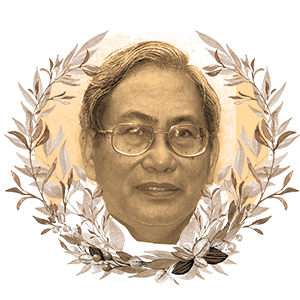 Celebrated composer, music theorist, and concert pianist. He received many prestigious international awards and produced music for ballets, orchestras, and papal masses. His contribution to the progress of the UST Conservatory of Music is deemed "priceless".
1936 – 2020
MANUEL PEREZ MARAMBA (who was also a priest, Fr. Benildus Ma. P. Maramba, OSB, 1936–2020) was a composer, concert pianist, organist, and theorist. Maramba was a recipient of many international awards such as a Lillian Gutman Award in Piano from the Peabody Conservatory of Music in Baltimore; and a Martha Curtis Miles Scholarship in theory and composition from Yale University. Maramba became a member of and led various Philippine musical organizations such as the Philippine Society of Organists, the Piano Teachers Guild; the National Music Council of the Philippines; and the League of Filipino Composers.
His highly acclaimed works include Hymn to San Lorenzo Ruiz, Awakening for Ballet Philippines, 1981; Concerto for Piano, 1982; the one-act opera Aba! Santo Niño, 1985; and the full-length ballet, The Seven Mansions, for the Philippine Ballet Theater, 1991. His other works are Music for Orchestra, 1958; Quintet, 1979; Jubilate 1, 1980; Suite for Organ and String Orchestra, 1982; Ang Sarswela sa San Salvador; Pugad Lawin, The Virgin of Naval, and Transfiguration I and II. He also composed the Papal Mass for World Youth Day, 1995; Mass in Honor of St. Lorenzo Ruiz, and Mass in Honor of the Sto. Niño.
Associate Professor Maria Alexandra Chua, PhD, of the University of Santo Tomas (UST) Conservatory of Music describes Father Maramba to Philippine Daily Inquirer: "Father Maramba played an important role in the translation of the music text of the Mass and the Liturgy of the Hours to Filipino, after extensive research on Filipino culture, values and traditions."
A tribute from UST Symphony Orchestra says: "Maramba's contribution to the artistic development of the entire UST Conservatory is priceless. Not only did he mentor future faculty members and administrators, he also established key elements of a standard conservatory, namely, a strong theory and composition department, and a jazz department. Maramba is responsible for establishing current ties between the UST Conservatory and the Cultural Center of the Philippines…"
In addition to bachelor's and master's degrees in piano, musical arts, composition and sacred music from UST, Peabody Conservatory, Yale University, and Kirchenmusikschule, Maramba also earned a bachelor's degree in philosophy and a licentiate in sacred theology and canon law.
Maramba's contribution to Philippine music as a whole is invaluable. Not only did he leave behind a large body of sacred music to the faithful, he also promoted and celebrated Philippine musical forms and structures by intentionally and lovingly incorporating them into his compositions.