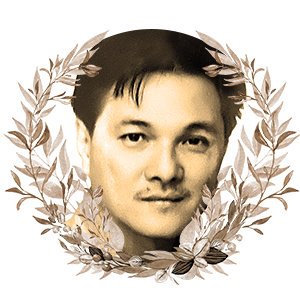 Entertainment Journalist and Author
April 21, 1946 – May 4, 2021
Ricardo F. Lo, known popularly as Ricky Lo, was a veteran entertainment journalist and TV host whose column for Philippine Star was widely followed and was known for breaking exclusives—mostly of showbiz decouplings—that often electrified the industry, and made for good showbiz copy.
He was born on 21 April 1946 in Las Navas, Northern Samar, where he finished high school at Tabaco Pei Ching School, a bilingual Chinese school in Albay. He would go on to take up AB English at the University of the East, graduating in 1966.
In 1969, he began his career in entertainment journalism as an editorial assistant for Variety magazine, the Sunday supplement of the Manila Times, and broke into print in the paper with his 1970 coverage of Pope Paul VI's visit to the country. This was also where he started his "Funfare" column. In 1972, he became staff writer for Express Week, the supplementary magazine of the Philippine Daily Express, which led to a job as deskman of The Evening Express, eventually moving to the staff of its main broadsheet. He then became editorial assistant of Weekend, its Sunday magazine.
In 1986, in quick succession, he became entertainment editor for the Manila Times, and then at The Manila Chronicle, finally moving in the same capacity to The Philippine Star, where he revived his old column and also ventured into "Conversations with Ricky Lo," his popular, if often controversial, Sunday feature. He was the Star's entertainment editor until 2021.
He made the move to television in 1999 as one of the hosts of ABS-CBN's The Buzz, a groundbreaking showbiz talk show, until 2003. He also later co-hosted Startalk on GMA starting in 2008 until 2015. He hosted other specials, including The Ricky Lo Exclusives on QTV 11 and Showbiz Stripped on GMA. He would also parlay his showbiz know-how by serving as publicist for films such as Okay Ka, Fairy Ko! (1991), Abot Kamay ang Pangarap (1996), Ligaya ang Itawag Mo sa Akin (1997), among others.
In 1995, he authored Star-Studded, a personal anthology of his entertainment articles focusing on movie stars and celebrities. In 2001, he published Conversations with Ricky Lo, a compilation of his interviews with showbiz denizens.
Journalist Leah C. Salterio once considered Lo's long career as veritable portal to showbiz spectacle: "For decades, [he] has given millions [a] front-row seat to the glitter and gloom of the entertainment world, delivering the hottest talks of the town—from the controversial celebrity break-ups and dramatic unions to the biggest scandals and juiciest gossips that rattle the nation. While most of his contemporaries have already thrown in the towel, the veteran entertainment editor and columnist continues to shock and awe with his scoops, forging his name as a showbiz icon and the ultimate storyteller of the stars."
He died on 4 May 2021.