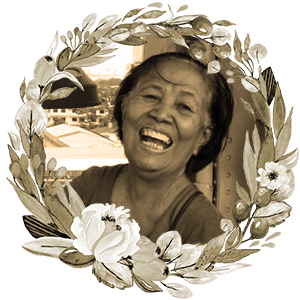 Curator, Author, Social Worker, Advocate of Philippine Culture & Arts
March 1, 1936 – November 26, 2020
Teresita Obusan, PhD, also known as 'Tita Tessie' to her friends and family, was a social worker, curator, cultural worker, and author. She had an intense interest in Filipino spirituality and popular religion.
Dr. Obusan was born in Daet, Camarines Norte to a family of scholars, the eldest of 14 children of Hermoso Obusan and Aniteta Obusan. She was a cousin of Philippine National Artist for Dance Ramon Obusan. Dr. Obusan obtained a bachelor's degree in social work and masteral and doctoral degrees in Philippine studies.
Her love for culture and arts developed during her childhood years when she used to collect pineapple leftovers, which were abundant in their province and the primary source of income in Daet, and turned them into useful items such as abaka and piñatex.
A product of the University of the Philippines, Dr. Obusan was the founder of and the spirit behind the youth group Kapitbahayan sa Kalye Bautista atbp. Lugar Inc., a non-profit organization located in Quiapo, Manila. It is mobilized by students and professionals from diverse fields who advocate the preservation of heritage houses and cultural heirlooms such as baybayin.
In the '90s, Dr. Obusan declared. "I personally came here for the people of Quiapo." In 1997, she started an event called Lakbay-Lakaran sa Quiapo based on Hermano Pule's (1815-1841) concept of journeying among fellow citizens to empower others. Quiapo is known for its popular devotion to the Black Nazarene, whose annual fiesta in January is attended by millions of Filipinos.
Dr. Obusan was also a curator of the Gregoria de Jesus Museum, also known as the Bahay Nakpil Bautista in Quiapo, a living witness of Philippine history and its people.
Dr. Obusan wrote and published about Filipino psychology, spirituality, and mysticism for many years. She was the author of notable publications, among them: "Katutubong Kaalaman (Indigenous Knowledge)" in Pamamaraan: Indigenous Knowledge and Evolving Research Paradigms, that she edited with Angelina R. Enriquez (1994); The Filipino Spiritual Culture, also edited by Obusan and Enriquez(1994); Pakikipagkapwa: The Pamathalaan Approach to Leadership, edited by Obusan (1998); Roots of Filipino Spirituality, edited by Obusan (1998); Mystic or Mistake: Exploring Filipino Mysticism in Quiapo (2008), and "Babaylan: Our Spiritual Heritage" in Babaylan: Filipinos and the Call of the Indigenous (2010).
She was often invited to speak about topics related to heritage, leadership, and social work, and she also held seminars and workshops in colleges and universities around Metro Manila. She focused on redirecting the students of the university belt into valuing Filipino history, arts. and culture.
Dr. Obusan gave her friends and family all she had – resources, heart, knowledge, time, and her lovely smiles.
"One of the primary sources of information for my dissertation study, for the completion of my doctorate degree, is Tessie Obusan," wrote Mary Ann Venturina-Bulandi in a Facebook post after learning of Obusan's passing.
According to Dr. Obusan's younger sister Nani Obusan, the scholar spent her last years in Daet, Camarines Norte developing libraries for children and adults who wanted to explore the Philippines' culture through books and other materials. Along with her siblings she founded the Ramon Obusan Library, whose goal is to commemorate the life and works of their cousin Ramon as National Artist for Dance.
"She was highly respected in our family; when she [spoke], all ears [were] on her," Nani said. "My parents were very proud of her, her opinions [were] valued, they [were] important," she added.