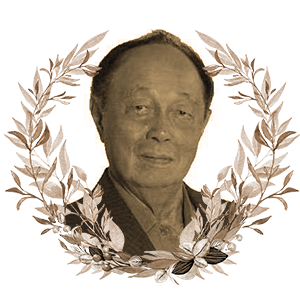 Businessman, Philanthropist, Art Patron
June 3, 1926 – November 23, 2020
Enrique A. Sobrepeña Jr., 'Ike' or 'Kabise' to friends, was a businessman, philanthropist, and art patron.
He was born in Caba, La Union, to Bishop Enrique Sobrepeña Sr., one of the leaders of the Protestant movement in the Philippines, and Petra Aguinaldo Sobrepeña. He fought in World War II and took part in the liberation of Baguio from the clutches of the Japanese army, for which he was later honored by the United States Embassy in Manila and the Veterans of Foreign Wars-Baguio Chapter.
Sent to Dumaguete City for higher studies by his parents, he graduated with a BA degree from Silliman University in 1949. He earned his Bachelor of Laws degree from the University of Manila in 1952.
After he retired from Pacific Memorial Plans, Inc., which he served as the company's president for 13 years, from 1966 to 1979, he founded College Assurance Plan (CAP) Philippines, one of the pioneering pre-need companies in Asia. It was during his trips with his pastor father around the country that he realized the importance of education and its multiplier effect on people to spur economic growth. From this conviction, the concept for CAP was born.
He was a generous supporter of the arts. He primarily financed, through CAP, the annual Silliman University National Writers Workshop (SUNWW), when it was known as the Dumaguete National Writers Workshop, from 1990 to 2006. He also provided a P5 million grant that transformed Camp Lookout in Valencia, Negros Oriental into the Rose Lamb Sobrepeña Writers Village, named after his late wife who was also an author. The Writers Village hosts the annual summer sessions of the SUNWW from then on until the present year 2021.
An avid golfer, he was also one of the inspirations behind the creation of prestigious clubs Manila Southwoods, Camp John Hay, Sherwood Hills, Forest Hills, and Fairways and Bluewater.
He was Outstanding Sillimanian Awardee for Business in 1973, and was conferred the Order of Horace Brinsmade Silliman in 2010 for his philanthropy. He was also awarded Doctor of Humanities, honoris causa by the University of Manila in 2001, and Doctor of Business Administration, honoris causa by the University of Baguio in 2002.