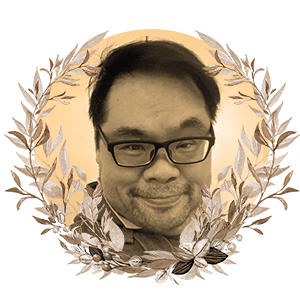 Artist Handler and Music Producer
November 11, 1967 — July 2, 2021
We can try to define the man by what he does and by what he loves. And if this were the simple formula for understanding a life, then by all means we can define Benjamin Gabitan as talent manager to the stars extraordinaire, and then go on to list how he himself defined his life by the things that he loved: he was, going by his Twitter bio, a "music junkie, food addict, fashion disaster victim, toy hoarder, comic fanboy, casual gamer, occasional pimp, and full-time geek, not necessarily in that order."
But we can also choose to define the man by the bonds that he made: when he passed on, a huge swath of Philippine show business grieved. Actress Carla Abellana grieved in an Instagram post: "It breaks my heart to know you're gone." Fellow actress Beauty Gonzalez also grieved: "Benj, bakit mo ako iniwan."
Benjamin Gabitan, Benj to friends, family, and associates, was a talent manager and music producer, known for grooming people to certain stardom, always pushing for new channels to showcase them, and stretched himself by representing talents from a wide variety of entertainment and content-making—and gained their trust and loyalty by his fierce sense of protection and vision.
He was born on November 11, 1967 in Manila to Antipas Gabitan and Susana Yu. He attended Saint Jude Catholic School, graduating from high school in 1983, and soon after embarked on a career in dentistry, enrolling at the University of the East to pursue that degree.
But dentistry was not for him. According to his friend Brian Lao Cua: "He did not finish the final year, because he had a change of heart. He realized he didn't like looking into people's mouths—but he excelled in molding crowns and caps for teeth." But he stayed in touch with dentistry classmate Arnold Vegafria, who later founded ALV Talent Circuit Inc.
He found himself doing a stint as A&R manager for DYNA-EMI Records between 1989 and 1995, and his team was responsible for launching the promotional campaigns in the Philippines for musical acts such as MC Hammer, Vanilla Ice, Roxette, and Radiohead, and spearheaded the local campaigns for Frank Sinatra's Duets album, and the catalogues of Queen and The Beatles.
This introduced him to the wider world of local show business. He became a much sought-after talent handler, maintaining an acute sense of professionalism—sometimes going beyond what was expected of him—and made it more remarkable by giving it a very personal touch.
How people perceived him was that he was "generous to a fault, [often] surprising everyone with his small gifts and tokens even without occasion. He was an exemplary team leader who led by example and worked beyond the clock." Among his stable of talents are Carla Abellana, Iya Villania, Divine Lee, Beauty Gonzales, Nancy Castiglione, RJ Ledesma, Victor Basa, and David Licauco.
He was one of the hardest working people behind the scenes in local showbiz. In 2003, he became general manager of ALV Talent Circuit, for which he juggled various tasks as a creative writer, artist handler, and music producer. He was a writer for ALV Consult U.S. Advertising, and an associate producer for ALV Films Inc.
In that capacity, he helped shape the production of films such as Leilani Chavez and Danica Sta. Lucia's Malamaya (2019), Joel Lamangan's Because I Love You (2019), Jun Lana's The Panti Sisters (2019), Adolfo Alix Jr.'s Bato: The Gen. Ronald Dela Rosa Story (2019), and Alix's Coming Home (2020).
As album producer for Independent Music Production, he shepherded Nancy Castiglione's "Nancy Jane" for Warner Music Philippines in 2007, Iya Villania's debut album "Finally" for Viva Records in 2008, Pops Fernandez's "Hope" and Kris Lawrence's "Moments of Love," both for MCA Universal in 2009, and Jessa Zaragoza's "Jessa Sings the Great Musical Icons," also for MCA Universal, in 2010.
For a time, he also helped beauty queens in training, grooming them for various pageants. Along with friends Pang Salonga, John Estur, and Gabby Mamangun, they produced a winning queen in Krista Kleiner, who was crowned Bb. Pilipinas in 2010.
He died on July 2, 2021 from cardiac arrest.
The suddenness of his demise, dramatized by his last Facebook post begging for an ambulance to be sent to his house, left his friends shocked. Actor and writer Ricci Chan acknowledged a friendship forged by three decades of "unyielding bitchiness, love, and trust."
He added: "Unbeknownst to most, [he was] a peace-maker… [He] always provided a safe space for friends to air grievances and angsts without fear of judgement. And now that [he's] gone, there is a gaping hole left in my life that might never be filled because [he was] one of a kind."
In the immense grief suffered by his friends and loved ones, we can find some measure of the mark of this man. In the end, one sweeping definition of him would come from his colleagues in the business: "He defined life with his own measure of flash, bravura, and dramatic flair … [He was a] big man with an equally big heart, [and] he lived larger than life, and he always made his presence felt through his loud, booming voice, thunderous laughter, and his irreverent ways."
From ALV Talent Circuit's Arnold Vegafria, we get a summation of a life devoted to dedication in forging talent: "[He was our general manager] for more than twenty years, [and he proved] himself as a tireless and dedicated team leader who always worked beyond the clock, and whose initiative and dedication have contributed to the success of most of our major projects and campaigns.
"As an artist handler, he was fiercely protective of his talents, who loved him immensely and rewarded him with their rare gift of trust, loyalty, and confidence. Benj was also an indispensable member of my creative think tank—always bursting with innovative ideas and workable solutions. As my best friends and my schoolmates in dental school can attest to, he was always a joy to be with."