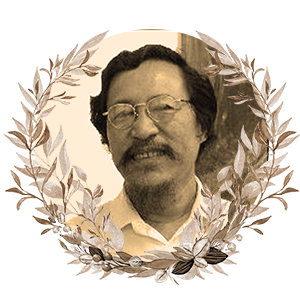 Art Framer
April 3, 1949 – April 20, 2020
Ricardo Soriano, Johnny to friends and family, was a master framer who elevated his craft to art in collaboration with some of the country's distinguished artists.
He was born in Tuguegarao, Cagayan. He grew up wanting to become an artist, and graduated from Cagayan Valley Arts College and Trade School in 1969. He found work in Manila as a draftsman in an industrial firm, but soon felt it was far from his goal of pursuing fine arts.
He then apprenticed as a frame maker in one of the few frame shops in Manila in 1972. Later he formally trained with the United States Information Service and the Thomas Jefferson Cultural Center, where he learned art care, art preservation, the proper use of materials, and archiving.
In 1975, he put up his own framing enterprise, RS Frameline Center, in Las Piñas City.
He soon developed a loyal clientele and was constantly swarmed with orders. He credited that to his insistence on absolute quality: "I [refused] to bow to commercialization. Artists want a personalized touch when it comes to framing, since their works are always unique and each is a work of love."
While he trained staff to help him do the work, his was the final touch that completed an artwork: "I have …to select what will harmonize well with the artwork, and make it complete." This meant going for "original frames," especially for established artists. "Frames have identities, too," he once said. "I make them in such a way that one design is distinguished from the other."
That meticulousness led to a distinct honor: when former University of the Philippines President Emanuel Soriano held his first painting exhibit in 1999, he shared equal billing with the framer. The show, titled "Soriano Meets Soriano," deeply touched Johnny, validating his shift from painting to framing, and acknowledging that what he did was equally artistic.
His clients were among the luminaries in the Philippine art world, including Arturo Luz, José T. Joya, Fernando Zóbel de Ayala, J. Elizalde Navarro, H.R. Ocampo, BenCab, Gus Albor, Botong Francisco, Raul Isidro, Roger San Miguel, Nena Saguil, Jerry Navarro, Allan Cosio, and many others.
Soriano also did work for the Ayala Museum, the Metropolitan Museum, the Luz Gallery, Museo ng Maynila, the Art Association of the Philippines, and the Malacañang Museum.
He also designed the frame container for Pope John Paul II's Pope Mobile, used for the papal visit to the country in 1981. In 1988, Jaime Cardinal Sin and the Archdiocese of Manila presented him with a special plaque of appreciation for his contributions to the International Marian Year Art Competition.
Framing art was a fulfilment of a lifetime for Soriano: "My work is not only a business that sustains my family and staff. It is [also] the gift of friendship [with artists] that is most precious to me."
This was echoed by Johnny's son Kim Soriano: "[He] was always after exceptional work. It was out of respect for the artistic vision of his clients who were often artists and collectors. And at the end of the day, it was the relationships he had with them that made his work so meaningful."