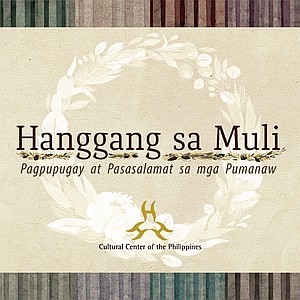 Politician and Advocate of Arts and Culture in the Regions
December 5, 1961 – March 8, 2021
Ronald P. Aquino was a Filipino politician. On December 5, 1961, he was born in Calbayog City, Samar Province in the Eastern Visayas Region. He later became the mayor in 2011 after the death of Reynaldo Uy. In the May 13, 2019 election, he ran under the banner of Lakas-CMD Party and won over Raymund Uy of the ruling PDP-Laban Party and independent candidate Rey Aquino. Aquino served three terms as mayor. He was 58 when he was in his third and last term. Unfortunately, he became the second mayor of Calbayog City to be murdered while in office in the span of a decade.
With Calbayog earning the moniker "killbayog" because of the amount of violence the city grapples with, Aquino made sure to tackle political violence throughout his term. He had formed a task force to dismantle Samar private armies. One of his ambitions for the city was the immediate ending of violence and to give justice to the victims of killings perpetuated by these armed groups.
Aquino truly was an advocate for peace. In 2014, the Malacañang appointed him as the new chairman of the Regional Peace and Order Council for Eastern Visayas.
Aquino was beloved by the townspeople. He was described as a very generous man. Aside from wanting to achieve peace in Samar, he also built facilities to further attract potential tourists in Samar, such as the Glacier storage facility and development works of roads and facilities in Malajog Beach, Tarangnan Falls and Bangon Falls. He believed that it would help their town's fishermen. In line with this, he supported the ban for commercial fishing being implemented in the Samar Sea. His administration also gave focus to the education sector by addressing its needs. Aquino had initiated a project dubbed as Project Shuttle All Kids and Youngsters Needing Assistance (SAKAY NA). This project contributed to a higher enrolment rate in the Department of Education – Calbayog City Division. A number of integrated schools have also been built under his administration.
Mayor Aquino was indeed a man people could count on. But he was, most especially, a father to Ronald Mark Aquino and Julius Clarence Aquino and a husband to Marcelina Aquino. Ronald Aquino was killed while going to Mark's birthday party on March 8, 2021.
In a social media post by Carmencita Bernardo, manager of the Cultural Center of the Philippines' Cultural Exchange Department, she said, "We request our Kaisa sa Sining colleagues, partners and the artistic-cultural communities to offer a prayer for the late Mayor of Calbayog City, Hon. Ronaldo P. Aquino. We grieve for losing another art and culture advocate. For more than a decade, Mayor Aquino has supported numerous initiatives and programs that have truly benefited the artists, cultural workers and audiences of Calbayog and the Province of Samar. Under his leadership, the CCP Outreach Program received valuable support and flourished even more in Calbayog. Rest in peace, Mayor Aquino, daghang salamat!"