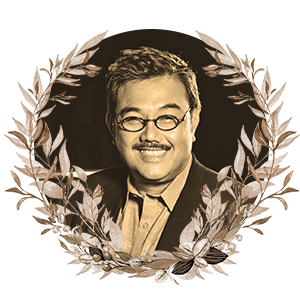 Acclaimed fashion designer of high society who used his glamorous celebrity in active philanthropic work
1959-2020
ITO CURATA (1959-2020), full name Encarnito Curata, was a renowned Filipino fashion designer who was best known for his bridal gowns and Filipiniana designs. With more than 30 years in the industry, his glamorous creations were worn by notable clients that include Hollywood actress Sharon Stone, Miss Universe 1973 Margie Moran, and actress Bea Alonzo.
Curata was born on November 2, 1959 and raised in Batangas. He started out as a Fine Arts student at the University of the Philippines. He left after a year when he got a scholarship at Clarion University of Pennsylvania. Unfortunately, the school's Fine Arts program was limited back then, so Curata decided to give up his scholarship and move to San Francisco. He ended up with a Fine Arts degree—major in painting and minor in photography —from the University of San Francisco. He went on to attend the Academy of Art College and graduated from its certificate program.
While in San Francisco, Curata worked in a bank for several years before he finally launched his career as a designer. After more than 20 years in San Francisco, Curata and his partner Bob Miller decided to relocate to the Philippines.
Curata and Miller were known for hosting parties in their Metro Manila home. Guests were treated to meals cooked by the fashion designer himself. In a Philippines Tatler tribute, Curata's fellow designer Lulu Tan-Gan said, "Ito Curata was one of our most popular fashion designers in Manila. Ito was 'the most' in many ways. Most cheerful, most generous, most kind and most giving."
Lifestyle Asia's Ysmael Suarez echoed this, writing, "We will remember Ito Curata for his well-meaning presence and indefatigable spirit, always ready with a warm smile at social gatherings and functions he was part of. Through his art and life's milestones, his legacy lives on for us to forever be inspired by. He will truly be missed."
Ito Curata passed away on March 26, 2020, a casualty in the global COVID-19 pandemic. A few weeks later, his partner Bob Miller passed away from the same disease.