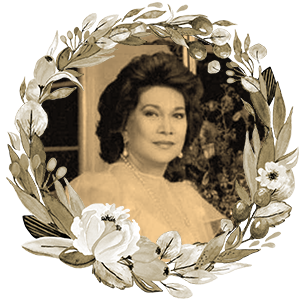 Actor, Visual Artist, Author, Set and Costume Designer, and Philanthropist
May 29, 1928 – July 12, 2021
Celia Diaz Laurel, 'Nitay' to friends and family, was a stage actor, painter, writer, and production and costume designer — a consummate artist to many, although for most of the country, she was the wife of Vice President Salvador "Doy" Laurel who served with President Corazon Aquino after the 1986 EDSA Revolution.
She was born in Talisay, Negros Occidental, the youngest of the six children of Anselmo Sison Diaz and Concepcion Gonzalez Franco. When she was five, the family moved to Manila, and Celia was enrolled at the Assumption Convent which was then located in Ermita, Manila.
It was here that theatre first attracted the grade schooler's interest. The school was known for its tradition of small productions called the velada, which were elaborate musical programs staged by the school alumnae which went back to the pre-war years. Celia was entranced by them.
Soon she was acting with Dramatic Philippines, founded by Narciso Pimentel Jr., which is credited for keeping the vernacular theater alive during World War II. After Liberation, she joined Isagani Cruz (who would become Justice of the Supreme Court) and Eggie Apostol (who would become the founder of Philippine Daily Inquirer) in the Legion of Mary, where they mounted productions for fund-raising efforts.
She enrolled at the School of Fine Arts of the University of the Philippines, where she was trained by Fernando Amorsolo (later a National Artist for Painting) and Guillermo Tolentino (later a National Artist for Sculpture), but she was naturally drawn to theatre. It was here that she developed her acting chops under the tutelage of Wilfrido Ma. Guerrero.
Her mainstream theatre breakthrough came when she was tapped by visiting Russian-American director Sonia Rifkin to play Adela in Federico Garcia Lorca's The House of Bernarda Alba in 1950. She later became part of Fr. James Reuter's company of actors, the Cathedral Players, which staged plays for his popular radio program.
The legendary actress Naty Crame Rogers, in her biography My Life in Theater, recalled that during her student days at U.P., "Celia Diaz [was already] being squired around by Doy Laurel." They were married in 1950, and in 1952 they left for the U.S., where her husband took his Masters in Law at Yale University, and where Celina took a Masters in Fine Arts. She enrolled in the famous Yale School of Drama.
She had eight children—Suzie, Lynnie, Cocoy, David, Larry, Iwi, Stella, and Kristipi—and while her husband pursued a career in politics, she returned to the theatre. In 1958, a few years after returning from Yale, Celia with other stage enthusiasts from U.P. founded University Dramat, a short-lived organization aimed at initiating needed developments for Philippine theater.
In 1968, she joined Repertory Philippines. Her years at the Rep were crucial to her further development as theatre artist, and her collaborations with the Rep co-founder and director Zenaida "Bibot" Amador proved fruitful.
Amador directed her in 47 out of the 52 plays she did for the Rep. These include acclaimed productions of The Sound of Music, My Fair Lady, and The King and I. Her last play for the company was Ivan Menchell's The Cemetery Club in 1992, after which she retired from acting, but stayed on as production designer and costume designer for nearly 80 productions, a culmination of both her fine arts and theatrical passions.
She was lauded for her set designs for Evita, Sweeney Todd, and The King and I, and for her costumes in Joseph and the Amazing Technicolor Coat, Camelot, and Pippin. Her last project as costume designer was for Baby Barredo's production of Guadalupe the Musical in 2018, where she recreated the look of 16th-century Mexico.
In 2019, her art works were exhibited at the Leon Gallery in Makati as part of Expressió: A Laurel Family Art Exhibit. She combined her love for the visual arts with her writing, and in 2014 released a coffee-table book/memoir, The Colors of My Life, which showcased her works in portraits, still life, nature, and landscapes.
The book was meant to be the first in a trilogy that spanned her life and her passions, with the first a recounting of her pursuit of the fine arts. In 2021, in the middle of the pandemic, she released her second tome, My Lives Behind the Proscenium, which chronicles her 60-year journey as thespian and stage production and costume designer. The third book would have been a memoir on her life as a whole.
She also wrote a biography of her husband, Doy Laurel, published in 2005, and a biography of her grandfather Domingo Franco, one of the thirteen martyrs of Bagumbayan — My Lolo Domingo Franco — published in 2011.
In 2016, she received Philstage's Natatanging Gawad Buhay for Theater, and made the "People of the Year" list of People Asia Magazine, for her six decades of contributions to Philippine art and society.
She was also internationally recognized as a philanthropist. In 1991, along with other notable women around the world (including Queen Noor of Jordan, Madame Bernadette Chirac of France, and Madame Maria Soares of Portugal), she was given the Woman for Peace award by the international foundation Together for Peace in Madrid, Spain. She was cited for "her noble undertakings in helping the people in need, the unhappy ones and the victims of natural calamities and wars."
Her advocacies included providing sustainable potable water in depressed areas, building public school libraries, and underwriting the medical expenses for persons with disabilities, especially paralytics and the visual- and hearing-impaired.
She also donated musical instruments to aspiring blind musicians, and facilitated a special acting workshop for talented deaf mutes with the help of Repertory Philippines. Through the Salvador H. Laurel Foundation, she also provided scholarship grants to deserving indigent law students.
She died at the age of 93, due to complications from a stroke.
Actress and singer Lea Salonga calls her a "theater institution" and says: "I will never forget her kindness, and how her face could just light up a room."
National Artist for Music Ryan Cayabyab remembers her thoughtfulness and gentleness: "I have never met anyone like her. She puts the word genteel to chill. She had the warmest, sincerest smile and even her laughter—no matter how hearty—was never beyond green decibels…I will never forget her and her family's tremendous impact on my life and my career."
She lived a long and productive life, something she fashioned out of a golden rule she lived by: "To put to good use the talents that you are given and also to look at the beautiful things in life."
It is an echo from a line in her second memoir, where she wrote: "I believe that in every production design and costume created, and in every role I played as an actress, I had the Master Director leading me on and blessing my works. To Him I offered them all, as I would in every role I played behind the proscenium. And I am indeed, truly grateful… God gifted me with several talents. Gifts of His choice that are the clues that lead me to discern the path He intends me to follow."