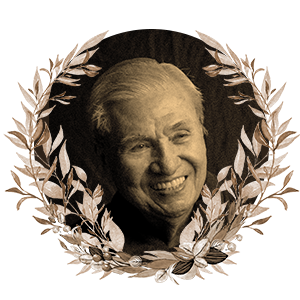 Visionary movie producer, filmmaker, and screenwriter who brought international acclaim to Filipino films in the 1960s
1930 – 2020
LUIS NEPOMUCENO (1930-2020) was a movie producer, filmmaker, and screenwriter.
Luis Nepomuceno made Philippine cinematic history when his film Dahil sa Isang Bulaklak became the Philippines' first entry to the Best Foreign Language Film category at Hollywood's Academy Awards. To think that this was Nepomuceno's film production debut on May 1967. It was also the first Filipino film shot in full color "by deluxe" using a Mitchell System 35mm camera.
He produced, directed, wrote, and edited it, and was also its cinematographer. It was shot in time for the 50th anniversary of Nepomuceno Productions; and was dedicated to — and written — by his father Jose. It won for Charito Solis a Best Actress award at the Asian Film Festival in Tokyo, Japan.
Nepomuceno was the executive producer, producer, director and writer of another landmark Filipino film, Igorota (1968) which also starred Solis. It also gained international acclaim, attracting a huge crowd at Madison Square Garden in New York and earned "rave reviews;" and was screened in a "black-tie event with members of the diplomatic corps…and Thailand's royal couple."
Ang Pulubi, 1969, which he directed; and A Time for Dying — a.k.a. Pipo, which he produced and directed, 1970 — both won Best Child Actor awards at the 16th Asian Film Festival in Jakarta, Indonesia.
Nepomuceno was producer, director and editor of Ang Langit sa Lupa, 1967; E.P. and producer of Luha sa Karimlan, 1968; associate producer of Manila, Open City, 1968; producer of The Hunted, and the controversial Maharlika (which was never released locally), 1970; and producer and director of The Pacific Connection, 1974.
Nepomuceno also founded the advertising agency Film Advertising Media (FAME) in 1959. He took over his parents' production outfit from the late 1960s to early 1970s; and dreamt of setting up offices in different parts of Asia, and "putting Filipino films in the international map."
His grandson Artu Nepomuceno, a photographer, recalls how American filmmakers (like Francis Ford Coppola), and producers would come to the Philippines and rent his film equipment; and how he made stacks of reflectors out of silver foil from cigarette packs, as compared to the American crew's reflectors "the size of refrigerators."
When Martial Law was imposed, Luis chose to "lead a peaceful life… communing with nature" with his family in Tagaytay.
Towards the end of his life, Luis wanted all of his films to be released in the theaters again. He passed away at the age of 89 on 28 April 2020. His family held an "austere, dignified necrological service" in Alabang at the height of the lockdown during the pandemic.