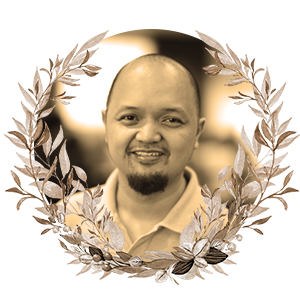 Filipino Komiks Promoter and Supporter
September 8, 1981 – September 22, 2020
A beloved figure in the komiks (Filipino comic books) community, Danry Ocampo was the ultimate fanboy who became one of the biggest supporters and promoters of local creators.
In a small industry that relies much on building at least a moderate fan base for its success, Ocampo championed the Filipino artists and writers involved in both local and international publications.
Born in Caloocan City, he was a dutiful son and loving brother to his siblings, and as a call center agent for a travel company, he contributed to his family's finances.
Ocampo's love for komiks began before his teen years, as an avid reader of cartoonist Pol Medina Jr.'s "Pugad Baboy" books. In 2006, after a few years of collecting American publications, he became aware of a local convention called Komikon, held at the Bahay ng Alumni at the University of the Philippines-Diliman.
Soon after that event, he purchased a limited edition boxed set of Gerry Alanguilan's "Elmer," and that was when komiks became his passion. Through his regular attendance at Komikon he eventually became friends with the creators he idolized, and got to know more of the independent ones.
Ocampo's attendance at conventions and book signings was much anticipated by creators, who considered him as a luck bringer, especially when he posted images online of his komiks haul. Danry often attended these events without any sleep, as he came straight from his call center shift, spending much of his time perusing every species of komiks available and getting to know the writers and illustrators on a personal level.
With what little cash he had, he bought what komiks he could, and eventually developed a sense of which creators and which of their works were of note.
Danry's in-depth knowledge of the community and its players provided his followers with a wealth of information regarding the history and evolution of independent komiks and of the involvement of Filipino creators in international publications. Though not an artist nor a writer, he was handpicked by the late Gerry Alanguilan for membership in the Komikero Artists Group for his tireless efforts in the promotion of komiks.
It was his passion for the works of local komiks creators, whether they be the renowned ones signed to big publishers or those lesser-known who sold their works in small quantities as ashcans (photocopies), that endeared him to many. Using his handle @komiksfanboy on social media, he promoted numerous creators and brought awareness of many of their works to a wider audience, especially to first-time readers.
Ocampo's opinion on which komiks to read and which ones to watch out for mattered. A good number of stories gained enough of a following to merit a second or even third printing, thanks to his avid fandom of these works.
Throughout the last ten years Danry had several cameo roles in these works: as himself, in broadsheet comic strips, and as a minted character in independent publications. These appearances are a testament to his influence among komiks creators and fans alike.
Being a fanboy is a rather unusual renown for a person to merit a tribute in the art world, but for someone such as Danry who blessed a small but rather important industry with his presence and inspired many to be better at their craft, his absence is deeply felt in the tight-knit komiks community.
In a 2017 interview with the Philippine Daily Inquirer, Ocampo enthused about the variety and diversity in komiks, and why young people should read them.
"We have a wealth of titles dealing with Philippine mythology and culture. Slice of life, humor, superheroes – all with a Filipino twist," he said.
"We've seen an increase in original stories from veteran and new indie creators, showing that comics can still compete as a form of entertainment. As for younger readers, comics help develop reading skills, with the perfect combination of words and pictures to convey a message."
He was honored online by the komiks community with the hashtag #LegenDanry.