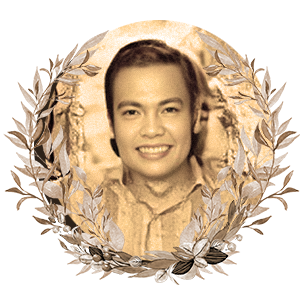 Broadcaster, Senator, Pop Culture Icon
August 25, 1934 – August 4, 2020
Eddie Ilarde, born as Edgar Ubalde Ilarde, was a broadcaster, senator, and Filipino pop culture icon. He was one of the first true superstars of the Philippine broadcast industry. He became a household name soon after joining the broadcast industry as a radio host, and popularized, along with Tiya Dely, the radio advice program format in the Philippines.
As a dispenser of wisdom for lovelorn listeners, he earned the moniker 'Kuya (elder brother) Eddie.' Ilarde also popularized the Bikolano word 'mabalos' (translated as either "thank you" or in the case of "Dios mabalos," it means, "God will return the favor") on his TV programs.
Born in Iriga, Camarines Sur, Ilarde went to Manila to study at Far Eastern University. As a part-time working student, Ilarde sold magazines and newspapers at the Central Market in Manila, and shined shoes on the side. He graduated with a BA degree in Journalism.
He began working in radio when he was only 21 years old, first as a trainee on DZBB, then as an announcer on DZRH.
In 1955, he moved to Chronicle Broadcasting Network's DZXL to host 'Si Dely at si Eddie' with Tiya Dely Magpayo. That year, Ilarde's most popular program 'Kahapon Lamang' also began airing. As he played the popular love songs of the day, Ilarde read letters from his listeners who called him 'Kuya Eddie.' He ended up giving them relationship advice.
Ilarde's charisma on radio translated well to TV. Among the shows he hosted were 'Kahapon Lamang,' 'Napakasakit, Kuya Eddie,' the popular noontime variety show 'Student Canteen,' and the game show 'Swerte sa Siyete.'
Ilarde's political career started in 1963 when he was elected Pasay City councilor. In 1965, he was elected congressman of Rizal's 1st district. In 1971, he was injured in the Plaza Miranda bombing. He recalled this horrific moment in an opinion piece that he wrote for the Philippine Daily Inquirer in 2013:
"…the Plaza Miranda bombing shall remain an ignominy—the darkest page in our political history—and a shameful example of political violence in a country which has now degenerated into a haven of shameless politicians…It is worth repeating here that there were many little-known stories of courage, compassion, and generosity amidst the horror and rage that night, stories which will never be forgotten and will remain in the hearts of those who know. Even if that carnage showed the evil in man, it was also the shining hour of the Filipino."
Ilarde was elected senator in 1971, but his term was cut short in 1972 when martial law was declared and Congress was abolished. In 1978, Ilarde returned to politics and won as assemblyman in the National Capital Region under the Interim Batasang Pambansa.
Ilarde died of natural causes exactly weeks short of his 85th birthday, survived by his wife Sylvia and their children Dino, Aldo, Nilo, Liza, Rico, Paulo, and Lara.
His daughter Liza wrote, "Our dad lived a full and meaningful life. He started from very humble beginnings and worked very hard to reach his stature."
To honor his contributions to Philippine broadcasting, Ilarde was given a Star Award for Television Lifetime Achievement Award by the Philippine Movie Press Club.