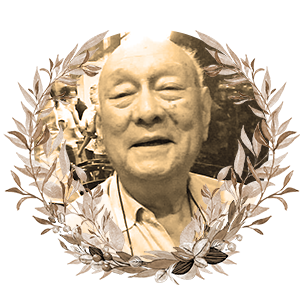 Historian, economist, writer
August 6, 1926 – August 26, 2020
Benito Justo Fernandez Legarda Jr.'s areas of scholarship included 19th century economic history, the Philippine-American war, and colonial church architecture. He was one of the foremost authorities on the occupation of the Philippines by Japanese forces during World War II. He wrote scholarly papers in Spanish, and delivered them in Mexico and Barcelona. a historian, writer, economist, and newspaper columnist.
Dr. Legarda was born in Manila to Benito Roces Legarda and Trinidad Fernandez-Legarda, former head of the Manila Symphony Orchestra, and was the namesake of his great-grandfather, Benito Legarda y Tuason (a member of President Emilio Aguinaldo's cabinet at Malolos during the first Philippine Republic and vice president of the Filipino Congress).
Legarda graduated from Georgetown University with a B.S. in Social Science in 1948, and Harvard University with an M.A. in Economics in 1950 and a Ph.D in Economics in 1955.
An avid collector of maps since the 1960s, Legarda wrote over 60 articles and papers about economics, finance, history, numismatics, cartography, Philippine colonial art, Hispanic-Philippine art, and church architecture.
He facilitated the donation of important artworks to the National Museum because he believed they "belonged in this country as part of its artistic heritage."
As an economist, Dr. Legarda served as deputy governor for economic research of the Bangko Sentral ng Pilipinas; consultant to the World Bank; economic counselor at the Philippine Embassy; and board member of the International Monetary Fund.
He was also a director of Memorare Manila 1945, an affiliate of the Philippine World War II Foundation; founding trustee of the National Museum of the Philippines from 1999 to 2001; board member of the National Historical Institute from 2003 to 2010; member of the board of advisers at Ayala Museum; and was a founding member of the Philippine Statistical Association and the Philippine Economic Society.
Dr. Legarda was a prolific and awarded writer. Upon his retirement, he wrote After the Galleons (1999), which received the Gintong Aklat Award. It was a revised version of his doctoral dissertation at Harvard University. His account of the Second World War in the Philippines "provided an important Filipino perspective of the Japanese Occupation."
He won the National Book Award for History for Occupation '42 (2003), and was a finalist for the same award for The Hills of Sampaloc (2001). These books were followed by Occupation: The Later Years (2007) and The Eight Rizalian Miniatures (2011). His Occupation series were initially published as columns in the Philippines Free Press and the Philippine Daily Inquirer.
Legarda was 94 when he passed away. Friends and colleagues said he made "history come alive" (a remark attributed to writer Joan Orendain), while University of the Philippines (UP)-Diliman School of Economics teaching fellow JC Punongbayan fondly remembers Legarda's "signature bow tie, brown suit jacket; explosive laugh."
An officer of the Intramuros Administration once lauded Legarda's "passion in history that engaged and benefited present and future scholars… a legacy that all of us would cherish and be grateful for."