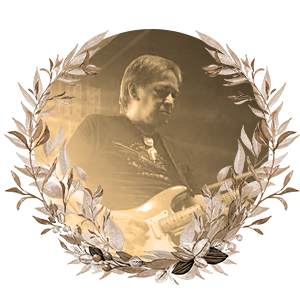 Guitarist, Bluesman, Pinoy Rock Pioneer
December 27, 1949 – July 23, 2021
Wally Gonzalez was a guitarist and bluesman, and considered one of the pioneers of Pinoy Rock.
Born in Sampaloc, Gonzalez had been playing guitar since he was a teenager. He founded the Juan de la Cruz band in 1968, along with Sandy Tagarro, Edmund Fortuno, Bing Labrador, and Alex Cruz.
However, after its initial success, the original band split up, with Fortunato, Labrado, and Cruz forming the Anak Bayan band.
Gonzalez eventually reconvened the band along with the late Joey "Pepe" Smith and Mike Hanopol in 1973. Juan de la Cruz released hits under the contemporary Filipino rock scene including "Himig Natin," "Beep Beep," "Balong Malalim," "Mamasyal sa Pilipinas," "Kagatan," and "Titsers Enemi No. 1."
Younger musicians fondly called him "Nyor," short for 'señor' — a term of endearment and respect accorded to him as a proponent of Pinoy Rock.
But his contributions to the band went beyond playing guitar. Gonzalez also wrote and sang lead vocals on fan favorites like "Nakatagong Mata" and "Palengke."
His acoustic instrumental ballad "Pagod sa Pahinga" was selected by indie filmmaker Dennis Empalmado as part of the music for his short film "Hindi Tao, Hindi Hayop" (2013).
Dubbed "the quiet Juan" for his non-flamboyant lifestyle, Gonzalez further made inroads as a solo artist releasing the albums "Tunog Pinoy" (1977) and "Wally On the Road" (1978).
His instrumental "Wally's Blues" from "Wally on the Road" is among his most famous solo works and considered as one of the most influential songs in Pinoy Rock.
As the rock bands faded and disco became a fad, Gonzalez left the music scene in 1988 to work as a treasurer in his brother's shipping company, playing only once over the span of ten years, until he performed in a reunion concert with his Juan de la Cruz bandmates.
Gonzalez jumped back into the music scene after retiring from the corporate world, performing again with Smith and Hanopol for the much-heralded Juan de la Cruz reunion concert at the World Trade Center in 1998. He later formed the band Wally and Friends with Dondi Ledesma, Wowie Posadas, Joonie Centero, and Armand Quimpo.
Wally died in his sleep at the age of 71.
Some of his colleagues remembered him as "a monster guitar player and a kind soul."
John Gonzalez, Wally Gonzalez's son, described his father as "a humanitarian who wanted to help and do the right thing."
"He liked helping out people by doing fundraisers, like what he did for Pepe Smith and for the people affected by Yolanda. He did a 'pass the hat' series of gigs to raise enough money to buy groceries to help out."
In an Our Brew tribute, author Joey Salgado wrote this about Gonzalez: "The power from Wally's guitar, even from a single blended string, is raw and visceral. He was a guitarist without equal. Regardless of the axe he wielded, Wally had a distinct tone."
Francis Reyes of Filipino rock band The Dawn remembered Gonzalez thus: "Madali po kayo laging kausap at kakwentuhan. And those times you plugged in your guitar and hearing that amazing gigantic tone fill the air, that even with one note, you seemed to say, 'This is how it's done.' You were the original Pinoy Rock Guitar Hero, and always will be."