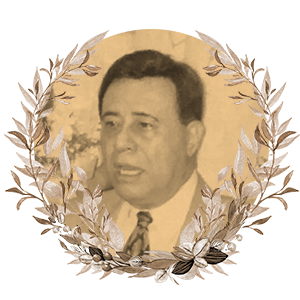 Public Official, Television Host, Columnist, Publisher
November 17, 1933 – July 30, 2021
Manuel 'Manoling' Lim Morato was a newspaper columnist, television show host, publisher, and public official, who twice held high-ranking appointive positions in the national government, and served as adviser to President Fidel V. Ramos on the Moral Recovery Program. He devoted much of his efforts to social work.
He was born in Old Sta. Mesa, Manila, one of 12 children of Quezon City's first mayor and Spanish-born businessman and politician Tomas Morato and Doña Consuelo Eclavea Lim de Morato of Calauag, Tayabas, Quezon.
The young Manoling studied at St. Joseph's College until the 3rd grade, then at the Ateneo de Manila until the 6th; he attended 7th to 8th grade at the Colegio de San Ignacio in Barcelona, Spain. His high school and college years were spent in the U.S. – at Georgetown Prep School in Maryland, and Loyola University in Los Angeles, where he earned a BS Economics degree.
He also studied piano at the University of Santo Tomas Conservatory of Music.
Morato headed the Movie and Television Review Classification Board (MTRCB) during the Corazon Aquino administration from 1986 to 1992 as the agency's second chairman after founding chair Maria Kalaw Katigbak. He also served as chairman of the Metro Manila Film Festival in 1986, 1987, 1988, and 1989, and as member in 1990 and 1991.
Known for his strict moralist ways, Morato launched a crackdown on "bomba" or "pene" films, or those with overtly sexual content. Under his leadership, MTRCB censored and deleted scenes deemed violent and sexually explicit.
His conservative stand didn't sit well with some film directors and progressive viewers. However, as a devout Catholic, his primary concern was the youth and their "preservation of morality."
The MTRCB described Morato as a "legend of the Philippine entertainment industry."
Morato also served as chairman and board director of the Philippine Charity Sweepstakes Office (PCSO) during the term of former President Gloria Macapagal Arroyo.
During his incumbency, the PCSO launched the Lotto, the country's first online lottery, with the first draw held on March 8, 1995. This led to greater revenues for the charity agency.
As a television host, Morato hosted "Times Four" on RPN-9, and, more famously, the weekly talk show "Dial-M" with former actress Maggie de la Riva on state-owned National Broadcasting Network, now the People's Television Network.
Morato's life was filmed in 1998, before the Philippine centennial celebrations, with actor Joel Torre playing the title role.
A dedicated philanthropist, he served on the boards of many charitable organizations in various capacities, among them the Manila Boystown Complex Foundation, Inc., Manila Youth Development Foundation, and Narcotics Foundation of the Philippines; and was patron of many causes ranging from health and welfare to education.
As a publisher, he produced "Some Free Press Pieces," a collection of Free Press articles by the late publisher and journalist Teodoro Locsin Sr. and Foreign Secretary Teodoro Locsin Jr.; "The Urian Anthology," a critically acclaimed volume of reviews by critics of the Manunuri ng Pelikulang Pilipino on Philippine movies in the 1970s; and the books "Jose Rizal – Filipino Doctor and Patriot," "Look Into My Eyes,"
"Manuel L. Quezon – From Nipa Hut to Malacañang," and "The Cavite Mutiny of 1872."
Morato also wrote the column "Uncensored" for The Philippine Business and News and tabloid People's Taliba, and also wrote at various times for the Philippine Star, Philippine Journal, People's Journal, Taliba, Isyu, Sun Star, and Panay News.
He ran for senator in 1992 and 2001, but lost both attempts. In 1998, he founded the Partido Bansang Marangal and ran for president with lawyer Camilio Sabio as his running mate, but also lost.
Morato received numerous recognitions, awards, and commendations, among them the Real Orden de Nuestra Señora del Puig bestowed on him in Valencia, Spain in September 1997, by King Juan Carlos of Spain for lifetime dedication to social work. Morato was only the second foreigner awarded; the first was an Argentinian in the 1500s. The Real Orden dates back to the 13th century.
He was also named Most Outstanding Citizen of Quezon City (2007), Outstanding Movie Censor by the Consumers Union of the Philippines (1990), and People's Choice Awardee as Outstanding Head of Government Agency (1989).
Morato succumbed to COVID-19 at the age of 87.
Entertainment columnist Butch Francisco remembers him thus: "He was a gentleman to the core, but wouldn't hesitate to give you a good fight — but only if you ask for it."
"Was he a good man? To me, he was — always been. He may have had a thousand and one skirmishes with people in the entertainment profession, but I can say that my experiences with him were mostly pleasant. From time to time, I'd offend him with my pieces, but we always managed to iron out our differences — in the most civilized manner possible."