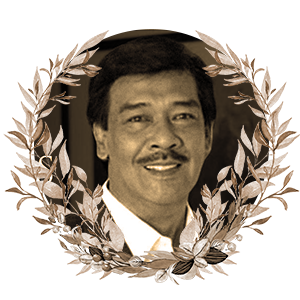 Singer, actor, public servant, advocate of responsible gun ownership. He was one of the pioneers of OPM.
1958 – 2020
SONNY PARSONS (real name JOSE PARSONS AGLIAM NABIULA, 1958-2020) was a singer and actor, was best known as the front man of Hagibis, an all-male singing group that rose to fame in the early 1980s. Their band would become one of the pillars of Manila sound.
With their disco beat, risqué lyrics, and macho costumes, Hagibis became known as the Filipino counterpart of the American music group Village People. Their first batch of songs, composed by Mike Hanopol and released in 1979, were a big hit with disco-loving Filipinos. Even 40 years after their original release, their songs with simple but suggestive titles such as Legs, Babae, Katawan, and Nanggigigil are still being played by radio stations. The group was so popular that in 1981, actor-director Tony Ferrer made a film entitled, Legs Katawan Babae featuring the whole band.
After Hagibis split up in the 1980s, Nabiula turned to acting. From 1981 to 1997, he starred in 28 action/comedy films. Some of the more popular films he appeared in include Uzi Brothers (1989) with Ronnie Ricketts; Target Sparrow Unit (1989) with Ramon "Bong" Revilla, Jr.; and OXO vs Sigue-Sigue (1991) where he had a leading role opposite E.R. Ejercito (George Estregan, Jr.). For a while, Nabiula slipped behind the camera and produced and directed the action film Bala Para sa Katarungan (1997), which he also top-billed. He dabbled in TV shows, as well, appearing most recently in a guest role in FPJ's Ang Probinsyano (2017).
Despite his shift to acting, Nabiula never turned his back on music. In 2010, he took part in The Manila Sound Project, a show featuring the music of such Manila Sound bands as Hotdog, VST & Co, and Cinderella. The group performed at the Air Supply concert that year.
In 2014, Nabiula organized a Hagibis reunion with himself still as the front man in his signature cowboy hat and leather boots. Nabiula continued to perform a series of concerts held in folk music bars throughout Metro Manila. Current folk-rock Filipino bands still cover songs Nabiula once performed onstage with Hagibis.
A former city counselor in Marikina, Nabiula is considered one of the pioneers of Original Pilipino Music (OPM).