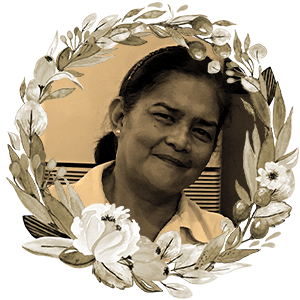 Writer and Teacher
March 16, 1961 – October 22, 2020
Bonnie Jane Yared Flores was a writer and teacher.
She was born in Dumaguete City, Negros Oriental to English teacher Imelda Yared Flores and businessman Winefredo Flores Sr. She matriculated in Silliman University from nursery to college, graduating from its high school in 1977, and, after a brief stint in home economics, earning her BA in English there in 1986. She became a faculty member of the Department of English, Literature, and Creative Writing at the same university.
Her love for the written word, fostered by her parents, eventually led her to writing poetry. Her writing earned her back-to-back fellowships in the Silliman University National Writers Workshop in 1992 and 1993, where she later served as a member of its secretariat for most of that decade. She also taught in Thailand in the mid-1990s, and afterwards in China until the late 2000s.
Returning to Dumaguete in 2009, she taught at the Kalikasan Education Center-Gandhi School of Korea in nearby Valencia town. She also became academic director and director of strategic partnership of the Saceda Youth Lead School in Candau-ay, Dumaguete.
Writer Rowena Torrevillas says her goodbye, "I am so saddened to hear Bonnie has left us. I always see her as the wistful, eagerly friendly young girl…greeting me, "Manang Weena!" with a bright, shy smile. Travel well, dear Bonnie, home to God where the gardens are bright as your eyes."