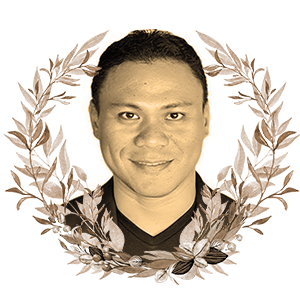 Fictionist, Poet, Essayist
April 15, 1979 – November 27, 2021
Jondy M. Arpilleda was a Palanca-winning fictionist, poet, and essayist from Tandag, Surigao del Sur.
Born in Madrid, Surigao del Sur, Arpilleda finished his undergraduate degree at the Visayas State University and earned his doctorate degree in Education in Applied Linguistics from the University of Immaculate Conception in Davao City. He also worked on his dissertation for a PhD in Research and Evaluation at the University of San Carlos.
He participated in the Iligan National Writers Workshop, Cornelio Faigao Memorial Annual Writers Workshop, Lamiraw Regional Creative Writing Workshop, and Ateneo de Davao University Creative Writing Workshop.
Arpilleda received numerous distinctions and awards for his writing, including the Don Carlos Palanca Memorial Awards for Literature (2019 and 2017), Jimmy Balacuit's Best in Fiction Awards (2015), and Filipinas Institute of Translation's Dalit Poem-Making Contest.
His book Mga Hagawgaw sa Kagabhion came out in 2019 and his poetry collection Mga Tinaginting sa Hangin, co-authored by Cebuano poets Ric Bastasa and Gratian Tidor, was published in 2014.
Most of Arpilleda's stories, essays, and poems were featured in Bisaya magazine. His other works also appeared in Libulan, Sunstar Davao, Paper Monster Magazine, and Liwayway. He also co-authored a textbook entitled Writing in the Discipline and published by C&E.
His poem "Pangutana sa Bana Ngadto sa Nagmug-ot Niyang Asawa Sukad Niabot si Yolanda" was published by Meritage Press, USA in 2014.
Arpilleda taught at various universities, including Surigao del Sur State University, where he handled research, language, creative writing, and literature; University of Southeastern Philippines; and University of Mindanao.
In an interview with Tingug in 2018, Arpilleda said he let his students read and critique his works. "Not because I ardently want to praise myself as a writer, but because I want to inspire them," the poet said, adding that "Bunok," "Agulo sa Pikas Kuwarto," and "Kasina" are his "most well-received works."
As a writer in Cebuano, Arpilleda's works often feature the unique variety of the language as spoken in the Surigao area. In the same interview, he said, "there is something special and redeeming about writing in a language you are so familiar with."
"I feel more confident in and accustomed to using Sugboanong Binisaya, although I must admit that I am also a borrower of this language," he added, his first language being "Tandaganon, a variety of the Surigaonon language, which is also entirely different from Cebuano."
Upon Arpilleda's passing last November 27, 2021, his friend Kenneth Michael Baba posted this on social media: Nganong namiya man kaaaa. You have always been so kind to me bisan lain-lain tag political beliefs, you have never resented me and treated me as a friend. Imo pa gani kong librehan na pod og kape, diba sir? Diba moanhi pa kag Cebu, chat nimo nako? Sir bisan pro-Duterte naka at the time nag nagkaila ta, I've never heard an insult, mockery or bisan unsa gikan nimo. You have always been patient nako and still invited me as one of the readers sa imong book launch. Hays kasakit
Arpilleda's fiction deals with social issues in the places he visited and called home. "I'm driven by this passion to tell the lives of ordinary people, and the struggles and conflicts that they [faced]," he told Tingug.
"I want my readers to learn something from my narratives – and that's what I wanted to write about – the people in Surigao and in Davao and other places that I have lived and been to. It seems to me that this is what makes my works different from the rest of the contemporary writers."